Byrd School dance recital takes over high school stage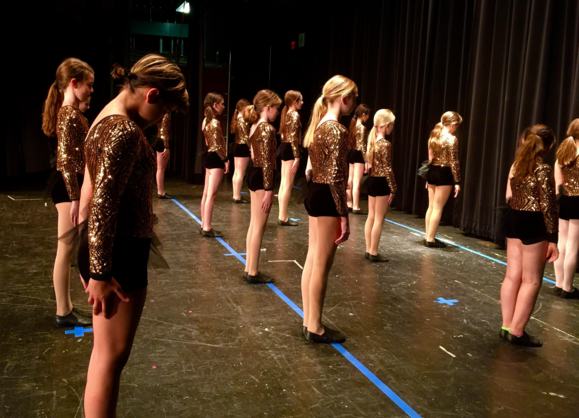 Byrd Dance held its 52nd annual recital Saturday, May 21 at 7 p.m. in the high school auditorium.
Francine Thissen started Byrd School Dance in 1964, teaching only once a week for two hours. She made an appearance at the show Saturday night, introduced and brought on stage by the Scarpelli family. Thirty one years later, she retired, but her love for the program did not.
The program has sustained itself over the years because of the parents who volunteer to run it. Byrd parents do scheduling, costumes, registration, payments, etc. Without them, there would be no show.
Tickets cost $8 each, and the 600 Auditorium seats quickly sold out. The side aisles filled up with audience members, as well as the extra folding chairs in the front.
Claudine Ranieri, lead Byrd dance teacher, named the show "#TB Byrd Dance," re-choreographing a few of her favorite dances out of the one hundred plus total numbers that she has crafted in her nine years at Byrd. Some included Shake A Tail Feather, Last Dance, Proud Mary, Devil With a Blue Dress, and New York New York.
"Dance has been part of my life for 40 years and teaching for over 25 years. I hope to never stop," Ranieri said.
This is the Ranieri family's last time with Byrd Dance, as Sophia, their daughter, is going to middle school and Claudine will be spending more time with her family.