Boys' tennis team falls in sectional finals
For the second year in a row, the boys' tennis team fell just short of a sectional title.
Glen Rock made it to the sectional finals, yet it ended with the same result as the previous year.
Despite the loss, the team is still able to look back on a successful season that showed several individual and team accomplishments along the way.
On May 24, 2015, Glen Rock traveled to West Orange Tennis Club to play in the North 1 Group 1 sectional finals. After being rained out on May 23, the match was moved to the indoor location. Glen Rock, who fell to Mountain Lakes last year in the same round, knew that they had a challenge to face. Glen Rock was shutout 5-0 by the Lakers.
Despite the loss, Glen Rock players realized that their play was nothing to be ashamed of.
"They were a very strong team and we knew that it was going to be hard," first singles tennis player Marino Aldaz ('16) said. "All the matches were close. It just didn't seem to go our way on deuces."
Glen Rock finished the season with a 19-2 record, which included an undefeated league championship. Before the season had begun, many players realized the potential that they had as a team with five of the seven starters being seniors. However, many were hoping to surpass last year's team by winning the sectional championship.
"The season that I expected was for us to win in the finals because I thought from first singles to second doubles we are strong," second doubles player Eddie Corvelli ('18) said.
Even though the team did not quite complete their goal of winning the sectional championship, they are still proud of what they accomplished.
"Not at all," Corvelli said when he was asked whether he was disappointed in the season. "Our two losses were to top 20 teams in the state. This season was a fun and exciting season."
On the bus ride back, the team was upset at first, realizing that this would be the end of their season and for some their high school tennis career.
"We were a bit down, but we were cheering each other on and took it pretty well," Aldaz said. "By the time we got back on the bus everyone was being themselves again and having a good time. We had fun playing."
Aldaz, who is now finished with his high school career, hopes to take his talents elsewhere. He will be attending St. Louis University Madrid campus in Spain, and he hopes to stay connected with his favorite sport.
"I may play club," Aldaz said. "I'm definitely not going to stop tennis."
Although the season has just ended, the team is already looking forward to next year's season. The returning players are slightly nervous, considering the amount of talent that they are losing from their starting lineup.
However, hopes are still high for the team. The players want to return to the sectional championship for the fourth year in a row, this time taking the title.
"Unfortunately, we are losing a lot of seniors," Corvelli said, "but I think we will be able to be really successful next year if everyone is confident and focused."
About the Writer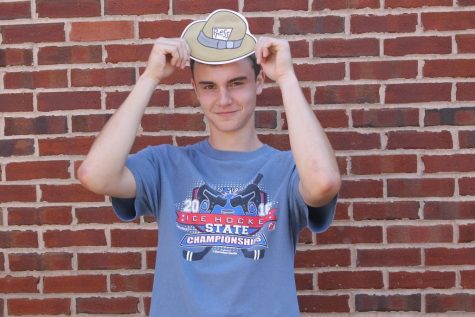 Colin Morrow, Editor-in-Chief
Colin Morrow is a senior at Glen Rock High School. He plays hockey and baseball and enjoys writing about sports. This is his third year of journalism....