Lunches for the less fortunate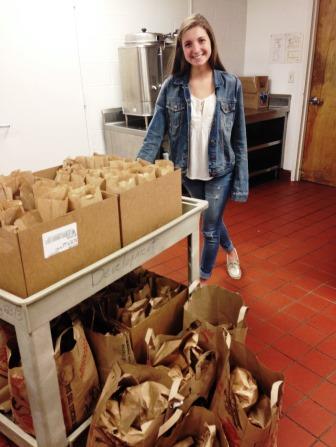 Many parents throughout Glen Rock woke up early to pack an extra brown bag lunch on Thursday, May 5. The lunches were sent to school with their children, although the brown bags didn't make it to the cafeteria.
Instead, the lunches were dropped in a donation box and taken to Eva's Kitchen.
These lunches, donated by middle and high school students, along with bagged lunches donated by the people of  the Glen Rockers Facebook group and the Mathnasium in Glen Rock, were given to those who cannot afford to pack their own lunches.
For junior Anne Nebbia, running a collection at school was motivated by her involvement in her local church.
"I've participated in donations [at Eva's Kitchen] before. At my church, they were handing out empty trays with with ingredients to make chili, which would be served the following week. I thought this was a cool idea, so I emailed Eva's Village to see if they did anything like that, and they told me about the brown bag lunch donations," said Nebbia who orchestrated the drive.
On Wednesday, May 4, Nebbia took to the Glen Rockers Facebook page to get the word out. She explained in her post that the lunch should consist of  a sandwich (either peanut butter & jelly or deli meat), a snack (either a granola bar, raisins, or a banana), and a drink, either water or juice. Nebbia also handed out slips during fifth period in the cafeteria, explaining the instructions for packing the lunch.
"After advertising it on Tuesday during lunch, I was discouraged because it was hard to spread the word, but I actually did reach my goal," Nebbia said.
Nebbia collected more than her goal of 100 lunches, coming in at 115. By 3:30 p.m. on Thursday, the bags were taken and distributed by the volunteers at Eva's Kitchen. After they served a full meal, the recipients received their brown bags.
"Those who are 'food insecure' eat it for their last meal, others bring it to their children, or eat it for breakfast over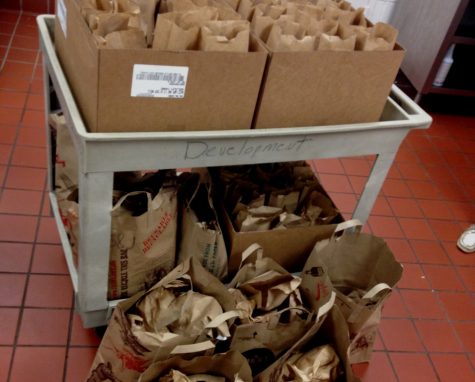 the weekends because the village isn't open for breakfast Saturday and Sunday," said Nebbia.
Eva's Village, located in Paterson, is ranked in the top 6% of charities in America, outperforming the majority of the organizations, based on its Four Star Rating by Charity Navigator. 
"I didn't start this charity, I just brought the event to our school. I was just so happy with the turnout and it's nice to know that there will be 115 less people hungry for a day because of the participation of kids from our high school," Nebbia wrote.