Gay Straight Alliance seeks support through silence
According to the Gay, Lesbian and Straight Education Network's 2013 National School Climate Survey, almost nine out of ten LGBTQ students reported experiencing verbal, sexual, or physical harassment at school due to either their sexual or gender orientation.
Day of Silence is a national day when both high school and middle school students choose to remain silent throughout the school day in respect of LGBTQIA students who experience harassment and bullying on a day to day basis because of their orientation. Day of Silence takes place in thousands of schools across the country every year since 1996, and the Gay Straight Alliance at Glen Rock High School recognized its annual Day of Silence on Friday, May 6.
According to Ms. Nicole Rusin, co-adviser of the GSA, the Day of Silence is primarily a symbolic day, a way for people to show respect for the LGBTQ community and to represent how people in the community have been silences through hate and bullying.
"I think it's really just about raising awareness and, at the same time, making sure that all members of the school community know that we're here," said Rusin.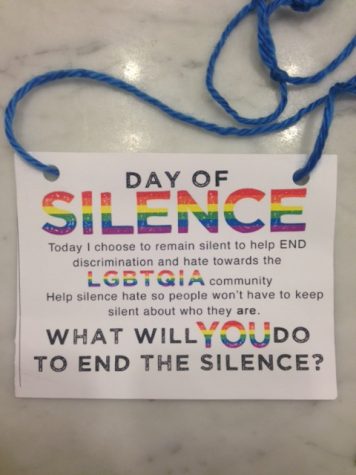 Students who chose to remain silent throughout the day received a lanyard and pin showing their support. Pins were also given out to students who chose not take the pledge of silence but wanted to show their support. The GSA expected to hand out about 45 lanyards and 350 pins based on support in years past, however, the club ended up handing out 450 pins and 95 lanyards, making this year's Day of Silence the most widely supported yet.
This is Rusin's first year as an adviser for the GSA, replacing Ms. Phyllis Sneyers, who retired last year.
"I remember the first Day of Silence, and I remember it was a big deal. It was the first one we ever had, and there was a reaction from members of the community that I didn't expect, and a not so supportive one. Since then, we've never had that same thing. It was just the first one, " Rusin said.
The main goal of Day of Silence is to raise awareness about the issue of LGBTQ bullying.
"Having so many people pledge to be silent and or have a pin to show support was really nice to see this year." said Jordan McMahon ('16), president of the GSA. "Being silent for the day isn't easy, but it sure does send an impactful message to your fellow classmates."
Bridget Horton ('17), member of the GSA, took the pledge of silence herself to show support and respect for those who have been silenced by hate and bullying.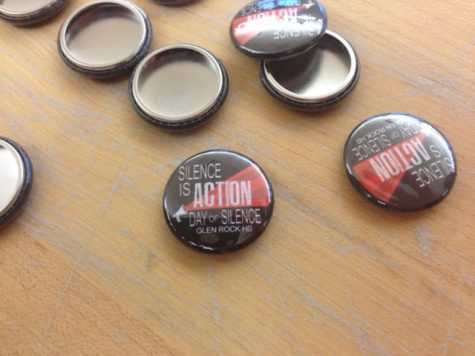 "Honestly, in my opinion, it's okay if you slip up a couple of times while trying to stay silent. It's more of showing your support towards your classmates, friends, and teachers," Horton said.
At the end of the school day, students who chose to be silent gathered in the Hamilton lobby to break the silence together.
"It's really an amazing moment. You feel like you're part of a group that is making a change," said McMahon.