Tatted teachers
Tattoos are unprofessional. This is the stigma attached to permanent art on the skin. Certain jobs do not allow their workers to have visible tattoos because it can change the way the business is viewed. 
"It does have that persona where you tend to do things rebellious," Scott Kupka, art teacher, said.
Kupka has large tattoos on both forearms. He typically wears a short sleeve shirt to work and rarely keeps his tattoos hidden.
It started for him when he was a kid, covering every notebook with bold designs. He decided his childhood sketch would be his first tattoo. At the age of eighteen, Kupka was inked with these original designs, which have evolved over the years.
Later in life, he had his wedding band tattooed on his left index finger. 
Teachers are considered role models for their students and they are supposed to set an example. Some adults see tattoos as a bad example or inappropriate for adolescents.
However, as each day goes by, America is modernizing its views and tattoos are becoming more "normal" and "mainstream."
Glen Rock High School has no rules against faculty having or showing tattoos. Every faculty member is encouraged to dress professionally to work.
Latin teacher, Brian Montalbano, rolls up his sleeves while teaching his class. His forearm displays a tattoo of a cross, designed with roses and wings. The banner above it reads, "paxinmote" which translates to "rest in peace" in the Latin language.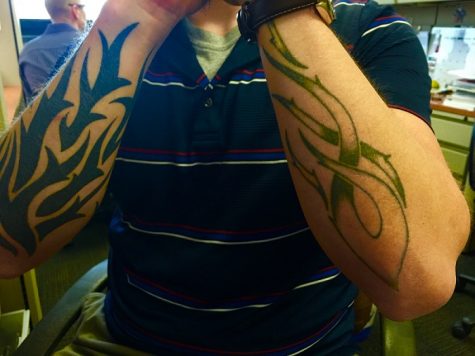 "It's an expression. As long as an expression is not offensive, I don't see why it should be an issue," Montalbano said.
Montalbano was never worried about not being able to find a job due to his tattoo. He knew he could always cover it if it ever posed an issue at work.
During his interview, Montalbano dressed in a suit that hid his tattoo.
Before starting his new job, however, he checked whether his tattoo was allowed to be visible while teaching. It did not interfere with the dress code.
Nicole Rusin, art teacher, also has tattoos on her arms. When she turned eighteen, she got her first tattoo of stars.
"I don't regret it, but it was definitely one of those impulse ones," Rusin said.
Her second tattoo is of a Celtic knot, which is a design that represents her Irish heritage. She got this symbol on her wrist, at the same time as two of her aunts.
After getting the tattoo, she covered it for job interviews with long sleeves and chunky watches. Even after getting her teaching job at Glen Rock, she hid it at work everyday for three years.
"
Teachers are supposed to present themselves professionally."
— Nicole Rusin
"What we have to understand is how we present ourselves to the world. For me, I presented myself without those tattoos. I presented myself as probably more conservative, which I think is an important thing to do when you're interviewing for any job," Rusin said. "You're not going to wear a low cut shirt and ripped jeans to a job interview. And if you do, you shouldn't expect to get that job. It's sort of the same thing with tattoos. Just cover them up to be respectful of the people that are interviewing you, and let them know that you're putting your best foot forward."
Rusin no longer covers her tattoos.