Coffeehouse XL
Coffeehouse XL took place on April 21 in the high school cafeteria.
Tables and chairs were set up around a makeshift stage as it has 39 times before. The lights were positioned so that they shined brightly upon the performers—a talented community of musicians and poets.
Started by 12th grade English teacher, Patricia Mahoney, in 1993, Coffeehouse is an event run through the high school's literary magazine, Mobius.  It serves as a night for students to perform acoustic music and read poetry.
Coffeehouse XL, however, was a particularly noteworthy event—it has been 20 years since the annual Coffeehouse event had been started, with two being conducted each year.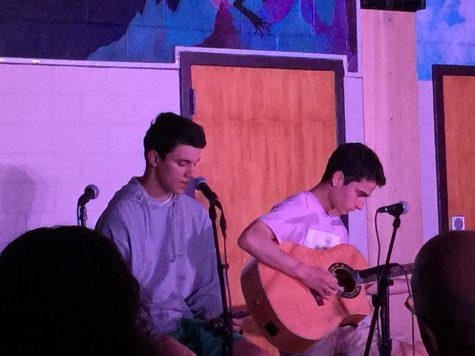 This year's hosts were seniors Justin McCollum, Michael Zilvetti and Harrison Gale. A number of students performed in this event, including Coffeehouse regulars Benedetta Fontana, Harrison Gale, Aaron Halpert Rodas,  Justin McCollum, and Mike Zilvetti as well as a number of faculty members.
In effort to make this Coffeehouse the best one yet, Mahoney invited colleagues that she knew were musically gifted to come and perform.
"I wanted it to be a real community event," Mahoney said. "I sent a personal invitation to everyone that I knew who was a musician or a singer and everyone responded that they wanted to be a part of it."
Although few were unable to attend this Coffeehouse, those who were able to, including Ms. Laura Allen, Mr. Carl Helder, Ms. Amanda Sproviero and Mr. Justin Ecochard, were more than happy to be a part of it.
Some of the highlights of the night included Benedetta Fontana ('16) and Cat Merkle ('19) performing Love Yourself by Justin Bieber, Allen performing an original mash-up called Fun with Beethoven, and Harrison Gale performing an original song.
The senior big band closed off the show with Ultralight Beam from Kanye West's album, The Life of Pablo. The senior big band consisted of Anna Barton and Mike Zilvetti on vocals,  Justin McCollum and Adam Donatuccio on guitar, Jack Weathers and Dan McCauley on the trumpet, Marino Aldaz on the trombone, and Zach McCollum on drums.
"I thought we really pulled through in the end," Zach McCollum said. "We were originally doing a song that was weak for the final performance but we changed it last minute and really pulled through."
"I'm always nervous when changes get made at the last minute but I thought it was great," Mahoney said.