Student joins Class of 2018 from Japan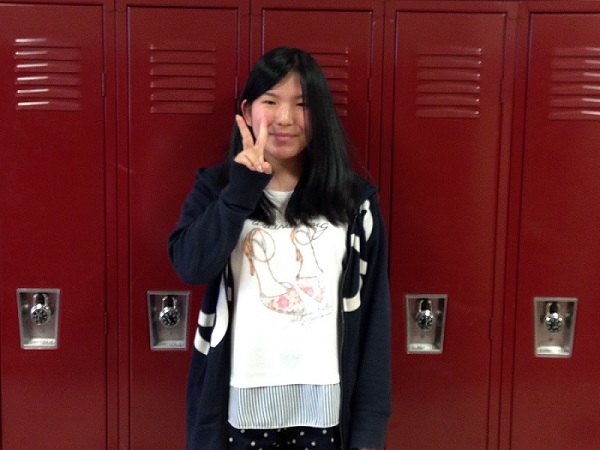 Kaho Shinada recently moved to Glen Rock from Japan and joined the sophomore class. 
Shinada came from a town in Japan near Tokyo named Saitama. Her family moved to America because her father had a job transfer within NTT Communications.
Although it is her first time in Glen Rock, Shinada lived in Virginia for three years when she was six because of her father's job, but moved back to Saitama when she was nine.
According to Shinada, the transition from Saitama to Glen Rock is stressful because of the many differences between the two towns.  
"Life is more convenient in Japan," Shinada said.
In America, Shinada and her family have to use a car to get to their destinations rather than walk three minutes to the nearest convenience store in Japan.
Saitama also notices differences in the education systems.
In Saitama, the students sit in the same class while the teachers move. Because Kaho wasn't used to moving from class to class, another student, Michelle Hirs ('18), took her to all her classes. Michelle agreed to show Kaho around after her friend Naoki Katsuyama asked her too. Katsuyama also moved to Glen Rock from Japan, however, she moved from Nagoya.
Contrary to Glen Rock High School, Japanese students aren't allowed to ask questions or raise their hands during class and if they need extra help, they must see the teacher after school or at lunch time. They don't get homework and don't have to write reports or essays. Most grades come from testing and there are usually big tests every two months in every subject.
In Glen Rock, students can pick and choose most of their classes, but in Saitama the teachers decide what class you are enrolled in. In Saitama, Shinada took twelve subjects but when students get close to applying for college, they cutoff some subjects and only take the three courses they are interested in.
If Shinada had not moved to Glen Rock, she would have taken Japanese History, English and Japanese A and B.
Japanese A and B is not like a regular grammar class. In Japan, students learn grammar in elementary school. In high school, the students learn Koten, which is a classical Japanese language.
One class that both Glen Rock and Saitama have is physical education. However, Shinada believes that gym is harder in Japan.
"We have to run about 500 meters and do 50 pushups as a warmup," Shinada said.