Baseball team's 'bulldog' chooses Kenyon
It is often said that the quarterback of a baseball team is their catcher and that the catcher is supposed to exemplify a leader on and off the field.
Glen Rock High School's catcher John Scandale is just that. Recently, Scandale committed to Kenyon College to continue his athletic and academic career.
"I've always dreamed of playing college baseball and I always wanted to outwork everyone else because I knew I had to earn it, in order to continue at the next level," Scandale said.
John Scandale is not only a standout on the baseball field, but also on the football field. Scandale lettered in four years of Varsity baseball, also in three years of football, ending his career at MetLife Stadium, falling just short of the Group II State Championship.
"I know that will hurt John for the rest of his life, playing hurt in the state championship and coming up just short, but I know he won't let that happen in baseball this year," Senior teammate Ryan Stolz said. "He's always been a team first guy and that's what I admire most about John."
Scandale was voted on by his teammates this off-season as one of the first three captains in the Glen Rock Baseball program's history.
Last season, Scandale batted .373, with 25 hits, and 11 runs batted in, earning him a 2nd Team All-Colonial selection.
Over the summer, he played for a club team out of North Jersey, the Renegade Cardinals, who helped Scandale throughout the recruiting process.
"I was interested in its pre-medical and science programs before I was given the opportunity to play baseball there," Scandale said. "It all seemed to fall into place at the right time."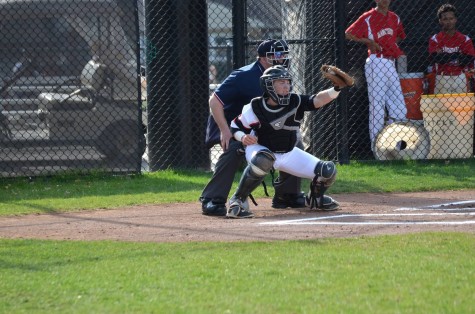 The Kenyon College Lords finished 21-19 overall last season. Scandale will be joining the side of 2013 Glen Rock High School graduate Tyler Roldan. Roldan will be a senior next year when Scandale is a freshman.
Not only will Scandale continue his baseball career at Kenyon College, but he will also continue his academic career as well.
Scandale is currently taking AP Government, AP Biology, AP Physics, AP Spanish, Honors Calculus, and Honors English. Scandale has been able to balance his studies with his baseball training throughout his high school career.
"He has an unbelievable work ethic and he is a true leader in every facet of his life, not only on the field, but also in the classroom," Head Varsity Baseball Coach William Crispino said. "He'll be missed in this school, but I know he'll do great things."
Last season, Coach Crispino gave an interview with the Glen Rock Gazette and called Scandale, a 'bulldog.' Ever since, Scandale's teammates have referred to him as 'Captain Bulldog.'
Scandale's teammates how hard he works to be at the top of his game each and everyday, perfecting his craft with the coaching staff.
"I trust John with anything, we have that pitcher and catcher relationship, basically a boyfriend-girlfriend type," senior pitcher Zach Waller said. "He's a special player and I wish him the best of luck next season."