Students prepare for fashion show
by Beth Keefe, Multimedia Manager
February 24, 2016
For several years, Glen Rock High School's Interact Club has been putting on the Interact Club Fashion Show, this year's show will take place Feb. 24, 2016.
Interact club is an organization that provides many opportunities for students to become involved with volunteering in their local community. The president of the club is senior Mandy Rosengren, who has been involved in the club for a few years.
The Fashion Show is fundraiser for the American Cancer Society's Hope Lodge in Burlington Vt. All of the proceeds from the event help provide free overnight lodging and support for cancer patients who have to travel far for treatment.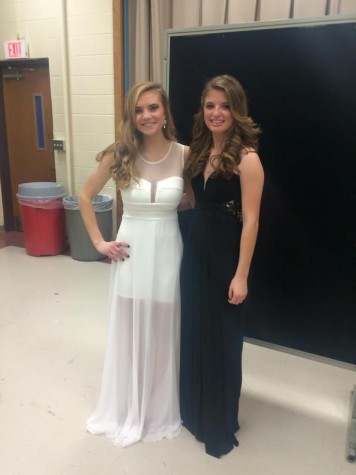 The planning for the event has been going on for three weeks and has been exciting yet stressful for club member Gabby Juliana, "It has been really thrilling to plan an entire event from start to finish. So I think it will be really rewarding to see the final product in action."
During the show, several students model the many dressed and tuxedos, which the school rents from places such as Suite 201 and Lord and Taylors. The tuxedos are rented from Biltmore Tuxedo in Ridgewood, New Jersey.
"We tried to pick people from all the different grades that were in different friends groups so that way the fashion show would appeal to a wider audience," Juliana said.
A few of the students who were chosen to participate in the event are seniors Jordan McMahon, Emma Daly, Maddy Doubet, Julia Gaffey, along with underclassman Michelle DeMaria, Mike Quinn and Ashton Dalessio.
"I've been in the fashion show over the years and I've always thought it was a fun way to raise money for everyone, whether you're watching or taking part," senior Maddy Doubet said, "I'm really excited to take part for a good cause and good clothes."
The Fashion Show is a great way for students to see what type of dresses and gowns are "in" this season and to have fun.