Theater Company performs 'Little Shop of Horrors', reminds audience 'Don't Feed the Plants'
After two long months of rigorous rehearsals, Glen Rock Theatre Company's 'Little Shop of Horrors' opened tonight, Feb. 4, and will continue through Saturday, Feb. 6.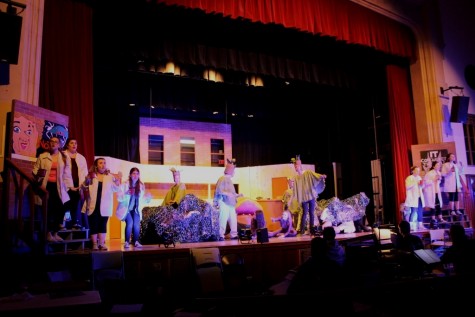 Jake Aboyoun ('16) acts as Seymour Krelborn, a nerdy florist shop worker who discovers a rare and usual plant that survives on human blood. Along with his love interest and co-worker Audrey, played by senior Mandy Rosengren, he convinces their employer, Mr. Mushnik, to use Seymour's plant as a marketing scheme to promote sales.
The stage is set up like a flower shop with a large, green, human like plant in the center. The set was created by brothers, John and Christopher Barker, who have been a part of the Theater Company for three years.
"Many students devoted late nights to painting.  Ms. McKinley and her stage crew kids have also put a lot of time in on props," Mr. Carl Helder, choir teacher and music producer, said. "I should also mention Bridget Darcey, student stage manager, Mandy Rosengren, our amazing costume designer, and Jake Aboyoun, student director."
Many members of the Theatre Company have a role in the play along with a role behind-the-scenes.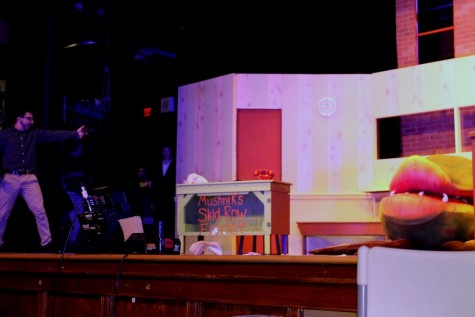 "I'm twice as nervous because I'm trying to make sure the costumes are right, too," Rosengren said, while she is excited to play Audrey, who she describes as "the classic dumb blonde."
Mrs. Rachel Beeksma, choir teacher, choreographed dances for the songs  'Feed Me' and 'Don't Feed the Plants.' While this is her first production at the school, she has a background in dance with dance teams and show choirs.
"We have a lot of students interested in being involved with our productions, so we are always looking for something with lots of opportunities.  This show calls for a nice size ensemble plus the added need of puppeteers and lots of lighting and sound effects," Helder said.
An original 'Men in Black' aspect was added to the play, which makes it a one-of-a kind production.  Rosengren describes the dark comedy as very "colorful."  A main attraction on the stage is the big pink lips on the plant, Audrey II, who comes alive in scenes like 'Feed Me.'
"It's such a cool part of the show and I think everyone will get a kick out of it," Aboyoun said. "It's very fun and energetic!"
"
"Everything is actually here… for the past two months its all been imagined""
— Jake Aboyoun ('16)
"I'm excited to show everyone what we have been working on because we have been behind closed doors for two months," Aboyoun said. "I am really sad that it's my last musical."
Senior Jake Aboyoun has been active in the Glen Rock Theatre Company since he was a freshman, and has participated in shows every year. The other seniors are Rosengren, Bennie Fontana, Zach Mulcahy, Mike Zilvetti, Jordan McMahon, Lizzie Moore, Illana Fishman and Aaron Halpert Rodis.
"The hardest part was putting everything together- singing, dancing, acting- like a big puzzle. But everything is actually here. For the past two months, it's all been imagined," Aboyoun said.
Additional ticket sales will be held outside the auditorium half an hour before each show.