Mistakes get the best of Glen Rock boys' basketball in recent loss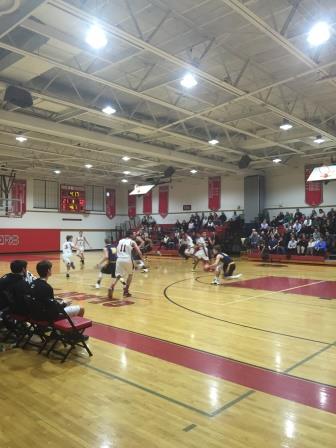 The Glen Rock basketball team lost to Pequannock on Tuesday, Feb. 2. The final score was 55-36.
Glen Rock got off to a good start, going up 8-2  with four minutes left in the first quarter. However, Pequannock would go on its own run, outscoring Glen Rock by an 11-3 margin. Pequannock's point guard scored the first and final points of the rally.
With the first quarter coming to a close, Pequannock had the ball with just five seconds on the clock. Pequannock's PG drove hard to the hoop and, despite getting fouled, still made the shot. However, he would miss the ensuing free throw as Pequannock went up 13-11 after one quarter of play.
Pequannock started the second quarter outscoring Glen Rock 5-0. However, the momentum was slowed by a Mike Szwaluk three pointer.
Turnovers and missed opportunities became the story as Glen Rock simply could not limit the mistakes in a quickly paced game. Pequannock maintained its lead and were up 22-19 at the half.
Glen Rock came out sloppy in the second half with two travel calls in the first four minutes. The mistakes didn't stop and led to a 13-2 Pequannock run to make it a 14 point Pequannock lead. By the end of the quarter, Glen Rock cut the score to an 11 point deficit. Pequannock led 37-26 after three.
Glen Rock knew they had some work to do down 11 points, and, with three and a half minutes left, found itself down just eight with a chance at a comeback. However, the turnovers that had plagued the team earlier continued to limit it. Glen Rock had found itself down 17 with just a minute left in the game.
Mike Szwaluk was Glen Rock's leading scorer with 14 point.