All of the intricacies behind Super Bowl 50
The 50th Super Bowl will take place on Feb. 7 in Santa Clara, California. The Big Game, this year, features the AFC Champion, 12-4 Denver Broncos, against the NFC Champion, the 15-1 Carolina Panthers.
The Denver Broncos are led by a tough and tenacious defense and a future Hall of Fame Quarterback, Peyton Manning. The Broncos will be looking to capture their first Super Bowl title since 1998. The Carolina Panthers will be chasing after their first Super Bowl victory in franchise history. They are led by the man they call "Superman", Cam Newton.
This year's championship game shapes up to be one for the ages, not only being the 50th Super Bowl in National Football League history, but also because it is likely Peyton Manning's last game after playing in the NFL for 17 seasons. The Super Bowl is watched by millions of people all over the world and almost as important as the game are all the things that come along with it: a great halftime show, funny commercials, and, of course, the all-important game food!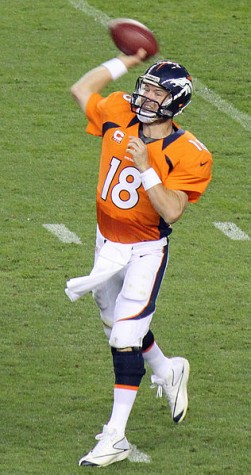 "I'm looking forward to the funny commercials," senior Jesse Weiss said jokingly. "I want to see how Nationwide makes up for their offensive commercials from last year."
"It's going to be difficult to get up from my seat because I love the commercials, even to get more food or go to the bathroom, it's hard to get up," junior Julia Rooney said.
"I'm most looking forward to the commercials because they give me a reason to watch the game," junior Sophie Bella said. "I'm a bashful person, but on Sunday I get to laugh out loud."
Although the commercials are typically very funny, there is more substance to Super Bowl Sunday, just like good parties, and hanging out with family and friends.
"I'm having a party at my house, so I'm looking forward to some good times with some of my closest friends," senior Jack Jensen said.
"Hosting a Super Bowl party is where it's at," senior Ryan Stolz said. "I love the atmosphere especially when the game gets intense and we all can't peal our eyes away from the TV."
A Super Bowl party is incomplete without all of your favorite game time snacks.
"I've never hosted a great Super Bowl party without great food. Food is important at these types of parties," Ryan Stolz said. "I can thank my mom and take out."
"It's all about wings, nachos, dip, hot dogs, fries, and good drinks. The traditional food is what keeps me fueled watching these games when my Jaguars are not in it," junior Sergio Galvez said.
Sitting and watching the game for over three hours may get difficult, which is why it is important to have a good halftime show. This year the Halftime show features Coldplay and Beyonce.
"I can't wait to see Beyonce, although I love Katy Perry and I think she did an amazing job last year, I think Coldplay and Beyonce will almost be equally as brilliant," senior Zoe Bender said.
Yet, despite all the outside attractions, the best part of the day will be the game.
"
It'll definitely be a great game. I want to see how the Broncos defense handles big Cam Newton"
— Jack Jensen
"It'll definitely be a great game. I want to see how the Broncos defense handles big Cam Newton," senior  Jack Jensen said. "I'm going to go Panthers 27 and Broncos 20."
"I think the Broncos will edge the Panthers in a battle between great football teams," Broncos fan and senior John Scandale said. "24-21 final."
"After spending an innumerable amount of hours analyzing all of the tape and spending long nights watching highlights, I've calculated that the Panthers will win by 9," Weiss said.
No matter the outcome of the game, Super Bowl fans can count on good commercials, good food, and a good halftime show. Dab.