Basement – Promise Everything Review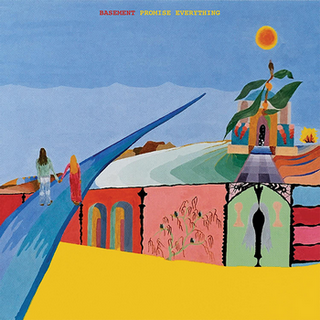 This is a journalistic review of Basement's third full-length album Promise Everything.
Promise Everything dropped last Friday, January 29, through Run For Cover Records
Basement is a British five-piece rock band based out of Ipswich, Suffolk. The band has been releasing music since 2009, with now three LPs and two EPs under their belt.
Basement has portrayed an astonishing number of influences across their discography. Their first EP, Songs About the Weather, is a short blast of melodic hardcore attack attributing to such hardcore heavyweights Kid Dynamite and Shook Ones. Basement's debut LP, I Wish I Could Stay Here, is a near masterful performance of melodic hardcore and 90s-influenced emo, which displays the band's heavy use of dynamics and blast and thrash beats.
A year later, their sophomore full-length, Colourmeinkindness dropped, showing Basement's incredible 90s emo and grunge influence. This mix of two underground styles shows a contrast between the dynamic, emotional, and distortion-heavy aspects of the band. This knack to bring the 90s to the forefront of the 10s emo revival saw Basement explore the Britpop styles of Suede and Oasis on their follow-up EP, Further Sky, after a short hiatus in 2013.  
On Promise Everything, Basement fuses its preceding two full-lengths together to create a record which nearly matches I Wish I Could Stay Here in its performance and dynamic quality.
The track "Brother's Keeper," opens the record with a powerful riff and lyric tone which characterizes the rest of the album. The track opens with a potent blast of  alternative rock fury, which crescendos into a Title Fight-esc breakdown of melodic emo.
Tracks such as "Hanging Around" and 'Losing Grip" also maintain this feel, while really bringing out singer Andrew Fisher's vocal style, converting it from raspy to screaming to more somber and melodic.
The lead single "Promise Everything" takes it back to Colourmeinkindness with a heavy and fast drum beat and strings riff with and a catchy hook that could stick as hard as the band's premiere 2012 track "Covet."
The other two singles "Aquasun" and "Oversized" show how catchy and accessible Basement can be without sacrificing power and dynamics. The former is also very uplifting and the latter could provide listeners with an interesting and new outlook on the bigger picture through the track's lyrical content.This catchy dynamic style could even be accredited to a band like Foo Fighters, on their first two records.
"Halo," the closing track, is comparable to Basement's closing tracks of their previous albums, with the ability to really feel like a solid finale, while still maintaining a sense of a continuation of the band's career.
Overall, Promise Everything is another incredible display of Basement's dynamics, power, finesse, and overall ability to perform. Basement absolutely does the 90s justice on this LP, and open 2016 with a bang.
Overall Rating: 9