NCAA adds new element to National Signing Day
For many student-athletes across the country, Feb. 3 will be the day that they have worked toward for many years. All of the work in the gym and on the field and the countless hours of training when no one was watching will finally pay off
National Signing Day is on Wednesday, and many Glen Rock student-athletes will make their college commitments to continue their academic and athletic careers at the collegiate level.
At the NCAA level, there are different "divisions" of competition: Division I, Division II, and Division III.
Tomorrow, the Panthers have three student athletes who have committed to continue playing their respective sport at the Division I level.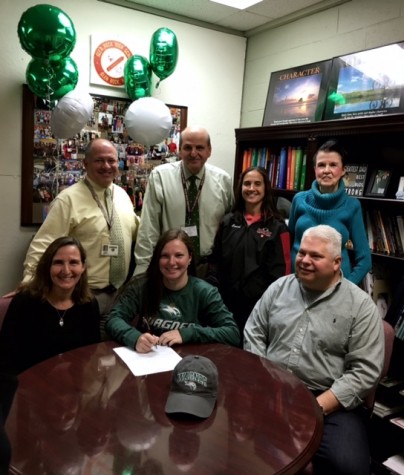 Zoe Bender has committed to play softball at Wagner College, Tommy Pulzello has committed to play lacrosse at Siena College, and Julia Kelly will play soccer at Iona College. Bender and Pulzello have previously signed their National Letters of Intent.
These three student-athletes have continuously worked hard in the classroom and on the field to get where they are today and will all take photos together on National Signing Day to celebrate their wonderful achievements.
Not all college athletes play Division I. To acknowledge the achievements of all athletes, the NCAA, the regulatory body of college athletes has added this year, the "Student-Athlete Celebratory Signing Form," for Division III athletes.
In past years, only Division I and II athletes would sign National Letters of Intent because they are receiving an athletic scholarship. It should be noted that many Division I and II athletes do not sign such a form because they are not receiving an athletic scholarship.
At the Division III level, athletic scholarships are not available, only academic scholarships are awarded to some athletes, but those athletes, whether or not they are receiving a scholarship and intend to play a sport, now have their own form to sign to recognize their hard work and dedication to academic and athletic excellence.
Glen Rock High School has several student-athletes who will play Division III sports including: McKensie Dill (Skidmore College Lacrosse), Eric Spada (Endicott College Lacrosse), Jason Palmeri (Rutgers University Newark Baseball), Matt Lange and Max Felsenstein (Drew University Baseball), and Tim Fink (Franklin & Marshall College Football).
Several other players are expected to make their college commitments very soon and possibly on National Signing Day.
The Celebratory Signing Form is only issued once the student-athlete has been accepted to the school and follows the unofficial Division III motto, "Academics come before athletics." Division III athletes may sign the form whenever they wish, unlike Division I and Division II athletes have to sign on specific days throughout the school year.
"I think having a Celebratory Signing form for Division III is a great addition for the NCAA because it recognizes the hard work that all of the athletes put in to get to this point," Rutgers Newark Baseball Commit and Glen Rock Senior Jason Palmeri said.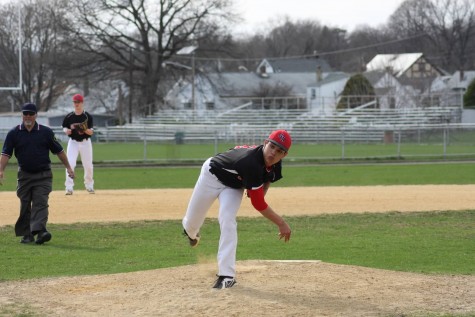 The Celebratory Signing Form is only issued once the student-athlete has been accepted to the school and follows the unofficial Division III motto, "Academics come before athletics."
The Signing Form encourages student athletes to discover themselves beyond the classroom and field of play, to develop into well-rounded adults, and dedicate themselves to achieve their potential, and it includes an optional mission statement from their respective institutions.
"My grades are very important to me and lacrosse comes second, so I decided that Skidmore College Lacrosse was a great fit because that's where I think I can balance both," Skidmore Lacrosse Commit and Senior McKensie Dill said.
While the belief is that academics come before athletics, it is a common misconception that the Division III level is lower quality athletics when there is only a slight difference from the higher levels. Division III does not mean third best. So few high school athletes go on to play collegiately at any level and the competition at all levels can be fierce.
While Division I is where one is commonly under the national spotlight, many Division III athletes have been drafted in various sports and excel at the professional level, just like Detroit Tigers Pitcher Jordan Zimmerman, who attended the University of Wisconsin Stevens-Point and just signed a lucrative $110M contract.
National Champions are still crowned at all levels of each sport. For example, growing up, baseball players want to make it to Omaha, Nebraska for the National Championship at the Division I level. In Division III Baseball, teams from across the country are competing for a similar crown and work just as hard to make it to Appleton, Wisconsin for their championship.
"Winning is winning and will always be the most important aspect of any sport at any level," Drew University Baseball Commit and Glen Rock Senior Matt Lange said.
"Playing college sports is a privilege at any level," Franklin & Marshall Football Commit and Senior Tim Fink said. "Division III athletes work just as hard as anyone to get where they are."
Student-athletes that are going to be playing Division III sports are hoping to take their respective photos with the school administration to honor Glen Rock High School and thank their coaches for their dedication and sign their forms in the coming weeks.
As for the Division I commitments, they are scheduled to take pictures together with the administration on Feb. 3 at 9 a.m., and Julia Kelly is expected to officially sign with Iona College then as well.
The Class of 2015 had five college commitments with the possibility of five more senior commitments in the Class of 2016. When it is all said and done, 2016's class may double the amount of last year.
"The Class of 2016 has made its mark making so many college commitments and we have continued the Glen Rock culture of excelling on the field and in the classroom," Wagner College Commit and Glen Rock Senior Zoe Bender said. "This is a talented and special group of high school seniors."