Girls' basketball team thrives under new varsity coach
He may not be a new face, but he's now the face of the program.  Former JV coach Steve Grenz stepped in to fill the void left by former varsity coach David Mosconi.
Former coach Mosconi had worked with the Glen Rock program for 16 years, touting a 301-122 record and winning the North 1, Group 1 state sectional finals in 2013. After retiring in spring 2015, Mosconi was approached by individuals from Woodridge High School where he was asked to coach. Delaying his retirement, the 1969 Tenafly High School graduate agreed to the position.
Coach Mosconi left coaching after reaching a milestone 300-wins.  Players were upset to see him leave but said they understood his reasoning.
"He wanted to spend more time with his new grandkids," Captain Fiona Higgins ('16) said. "His knees were also very bad, and he had to get a double knee replacement, which had to do with it. He also said after he got 300 wins he was done,"
Yet players learned that Mosconi would be returning to coaching basketball over the summer. This time, though, he would not be with Glen Rock.
"When Coach Mosconi left, we all thought he was retiring until we went to our basketball camp in July at Kutztown. The captains told us he was coaching another team," sophomore Kaitlyn Arcede said.
Higgins said that she believed Mosconi intended to retire from the sport "but, after his knee surgery, he started to feel better, and he just wasn't ready to retire."
Despite the coaching upheaval, Glen Rock basketball has been thriving.  Glen Rock beat Pompton Lakes 61-30 on Jan. 28 and Manchester Regional 56-25 on Jan. 26 in its two most recent games.  For the season, Glen Rock has a conference record of 10-0 and an overall record of 12-4.
Glen Rock girls' basketball encountered its former coach when the team scrimmaged Woodridge at the beginning of the season.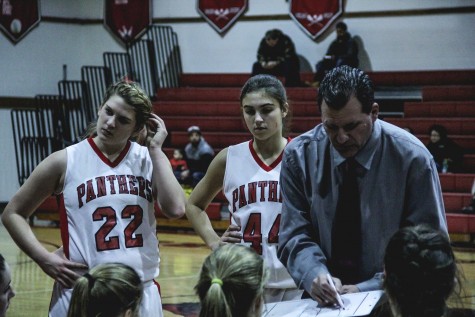 "The scrimmage went well. We beat them by a good amount. It was weird seeing him coach another team, and I even almost responded to his coaching on the court," Higgins said.
Arcede said, "The change in coaches didn't change us as players, we're all just adapting."
She explained that practices run by Coach Grenz are harder but shorter, and the players appreciate them even though they're more challenging.
Cate McLoughlin, a sophomore, is more focused on playing as a team and winning than the change in coaching styles.
"For myself and my team, I'm hoping we constantly work hard at practice and stay focused to keep winning," McLoughlin said.
The JV coaching position was filled by Sara Wolman, who had helped voluntarily last year. She played for Glen Rock basketball when she was in high school.