Girls' Winter Track wins shuttle hurdle relay
Glen Rock Girls' Varsity Indoor Track team is ranked first in its Group 1 division.
Runners Hannah VanderWall, Alethea Jadick, Selma Sose and Julia Kelly placed first in the 55 meter shuttle hurdle relay, completing the race in just 35.07 seconds on Jan. 17.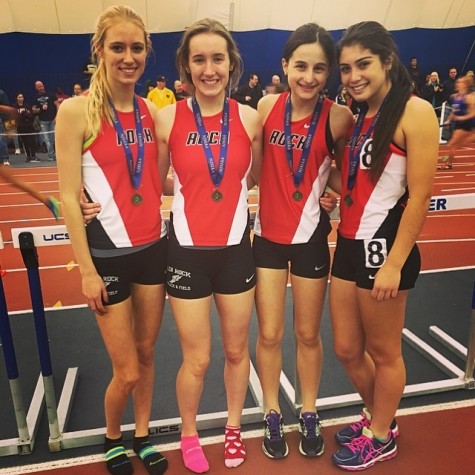 The runners ran in the state relay event at the Bennett Center in Toms River, NJ on a modified track, so each runner only ran 51.5 m as opposed to the usual 55m.
VanderWall ('17) kicked off the race, completing her portion in 8.7 seconds, followed by classmate Jadick ('17), who completed her 51.5 meters in eight seconds flat. The third girl to run was Sose ('18) whose time was 9.7 seconds. Kelly ('16) was the anchor, coming in at 7.8 seconds.
"The team who came in second was a full second behind our team, and in the 55m race that is a large amount of time," Jadick said. The Jonathan Dayton High School Girls' Shuttle Hurdle Relay came in at 36:07, followed by Hasbrouck Heights High School, whose team came in at 36.23 seconds.
The girls' time was featured on NorthJersey.com, in addition to being announced on Twitter by @NJMileSplit, a website that hosts an archive of track stats from teams all over New Jersey.
"Winning the race was awesome. We were all super excited and we just hugged," Jadick recalled.
This win puts the girls' varsity team at #23 in the rankings for the entire state. Bergen County Relays will be held on Jan. 27 at The Armory in New York City.
In light of the girls' recent state achievement, it is likely that they will be seated first in the county relay meet.
"Our biggest competition is going to be Hasbrouck Heights, and since we already beat them at state groups, it is likely we will do well again," Jadick said.
The Bergen County Relays are a smaller meet and, since a significantly fewer number of teams will be running, the girls are feeling confident about the meet and the remainder of their season.