Snowstorm shuts down town for the weekend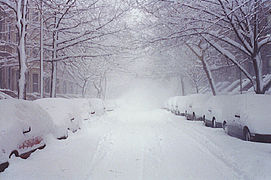 As the state prepares for the upcoming blizzard, Glen Rock specifically has decided to cancel all town events this weekend.
The impending weather raises concerns for Glen Rock residents; therefore the district has released an announcement saying all events from Friday, January 22 at midnight to Monday, January 25 at 6:30 am.
Many GRHS students have studied and planned on taking the SAT's at either Ridgewood or Fairlawn this weekend.
"I wish the test was not cancelled because I studied for it and since it is pushed back, I probably won't study anymore and may forget stuff," said Jennifer Singh ('17) "I just really didn't want it to be cancelled."
With the season's first snowstorm on its way, the College Board announced a rescheduled date for test takers.
"I just wish the SAT was not cancelled because I may not be as prepared and my scores will come out later and I'll just have to wait longer than I would like," said Katherine Grochan ('17)
Due to the snowy weekend forecast, cancelling all town events may be a concern but it is to ensure the safety of Glen Rock residents.