Theatre Company takes on Star Wars
May the force be with thee.
The Theatre Company announced on Wednesday, Jan. 13 that the 2016 spring show will be William Shakespeare's Star Wars: Verily, A New Hope by Ian Doescher. The play is a dramatic retelling of the 1977 film Star Wars: A New Hope by George Lucas written entirely in Shakespearean language.
Ms. Juliet McKinley, who has been the Theatre Company adviser for the past five years, will direct the play.
"This year, a lot of the students expressed an interest in doing something relating to Shakespeare, and I was all for that. I thought it was a really good idea and it felt like a really good time to do it, but I was concerned because sometimes there is a lack of interest from the outside to attend something that's a Shakespeare play," McKinley said.
When McKinley looks for shows to do with the Theatre Company, she prioritizes the learning experience of her students. When she found William Shakespeare's Star Wars, she thought it would the perfect combination of working with Shakespearean conventions and a show that would offer a fun, unique experience for the audience.
"I think it makes it much more accessible to people. If you are familiar at all with Star Wars, or if you like science fiction, or if you like movies, I think it's something that's a great opportunity." McKinley said. She also hopes that the show will bring in more people who aren't typically involved with the Theatre Company.
The story follows Luke Skywalker who trains to become a Jedi knight under Obi-Wan Kenobi and goes on a rescue mission to save rebel leader Princess Leia, who is being held captive by the evil Empire. The play was published in 2013 and was written by Ian Doescher. Doescher has also written interpretations of the rest of the Star Wars movies, including The Empire Striketh Back and The Jedi Doth Return.
Jake Aboyoun ('16) is a Theatre Company Executive Board member and has been in the Theatre Company since his freshman year. Most recently, he played Horace Vandergelder in the Theatre Company's fall show, The Matchmaker.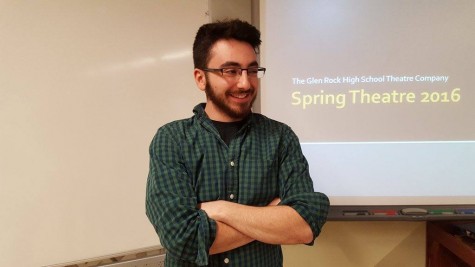 "One of the biggest challenges for any actor is understanding the language of Shakespeare. Even though Shakespeare didn't write this particular play, the text is formatted the way it would be if William Shakespeare did write it." Aboyoun said.
Although he is aware of the challenges the show will bring, Aboyoun is ready to overcome those challenges and let his Theatre Company career end on a high note.
"I want to make the most of my final experience," Aboyoun said.
Star Wars is a personal favorite for Mathew Lacognata ('17), who is also a member of the Theatre Company Executive board.
"The fact [that] we are going to be one of the first, if not the first school to do this production is really exciting," Lacognata said.
The show is already attracting the attention of students who don't typically act in drama productions. Luke Blomstrom ('18), who is typically on crew for the Theatre Company, has decided to act in this year's spring show.
"The spring show is going to be the first play I've acted in, and I'm so happy it's this show," Blomstrom said.
William Shakespeare's Star Wars: Verily, A New Hope is set to open on March 17, 18 and 19.
"I think it's a good time to do something Star Wars related since so many people have been so excited about the movie and so many people are discovering it for the first time," McKinley said. "I think it's just going to be so much fun."