Braids and shoulder pads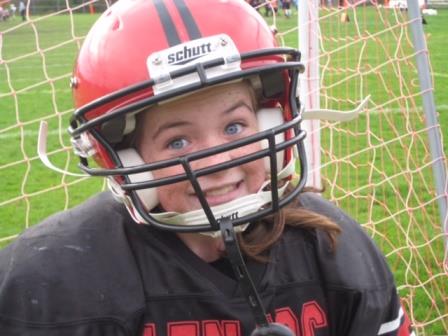 There is not a single girl on the football team.
Perhaps the most disquieting aspect of this statistic is that it's not surprising to us: of course there's not a girl on the football team, one might think, because girls don't play football.
Yet there's something amiss when a girl like junior Julia Rooney, who had the courage to play football throughout fifth grade, abruptly stopped participating when she began middle school.
"All of the boys were surprisingly supportive and really nice to me," Rooney said. "I'm sure it was just as awkward for them as it was for me at first, but they never made me feel like I didn't belong."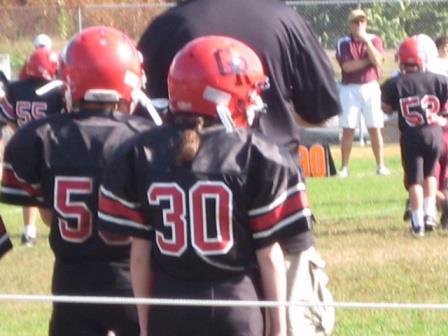 Many think girls' sports are for girls to play and boys' sports are for boys to play, but Rooney defied those opinions and took a leap of faith playing football.
"It was sometimes difficult going up against some of the boys in practice, but I did what I could and I wanted to contribute," Rooney said.
Rooney said one of her memories was when one of the other teams thought they shouldn't play hard against her because she was a girl.
"There was one time when I got the ball because a player on the other team was overheard saying, he won't tackle me because I'm a girl," Rooney said. "I ended up rushing for a few yards and picking up the first down because of an unsportsmanlike conduct penalty."
Rooney wanted to prove she was able to compete with the boys and had assistance from her older brother, Kieran Rooney.
"She wasn't the best but tried really hard," Kieran said. "We had fun."
For Julia, having her older brother on the same team helped her to acclimate to the playing with the boys.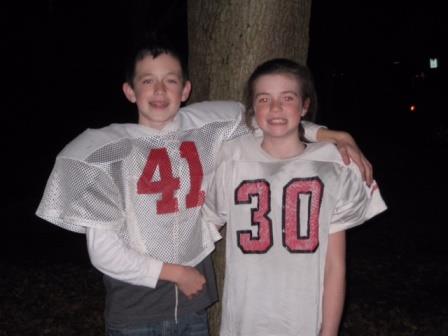 "I settled in quicker than most would expect because I knew my brother's friends and Kieran took me under his wing like a big brother should and made the transition period a lot easier," she said.
Rooney especially enjoyed attending practices because she had fun going up against her brother and his friends, who eventually also became her friends. She found practice to be just as mentally and physically excruciating as the games.
"I am proud of myself for having the courage to play football. I definitely proved the point that anything boys can do girls can do as well," Rooney said. "I always purposely wore my braids or ponytail out of my helmet to show that I was a girl, I thought it made me look tough."
Rooney wanted to continue to play football the next season, but, after talking her decision over with her father, they came to a mutual agreement that she should not continue playing into middle school and she should take up lacrosse, which has a girls' high school team.
"I enjoy playing," Rooney said of lacrosse, "but I sometimes get penalties when I see my aggression from the football field take over."
"I think I experienced something really special by playing a predominantly male sport and being the only girl in the entire organization. It's something I hope to be able to tell my kids and grandkids about," Rooney concluded.