25 Days of Christmas
"The best way to spread Christmas cheer is singing loud for all to hear," Will Ferrell said, in the popular Christmas Movie, Elf.
Despite the unusually warm December weather, Glen Rock is buzzing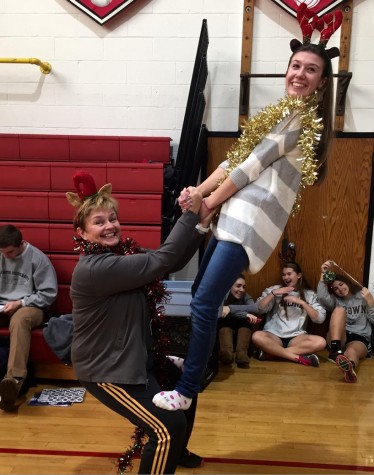 with holiday cheer. Between the lights, cookies, and anticipation of this much awaited holiday, Christmas can't seem to come fast enough. Sophmores, Emily Pensec and Kaylie Ernst, have shown their spirit through their unique  "25 Days of Christmas" outfits.
Pensec and Ernst are wearing matching Christmas outfits every day to school until Christmas break, which started on December 1st.
"Me and Emily just face timed and just looked through each other's' closets and looked at what we have in common. And our parents got us stuff if they went out or something. We saw ugly sweaters at Macy's and we got them and we're like 'oh let's do it every day until Christmas," Ernst said.
Pensec and Ernst have been wearing their sweaters, headbands, and smiles proudly, and they are catching the attention of both teachers and students.
"I noticed the blue sweaters with the snowflakes because they were walking next to each other and matching. People do what they want to do… I don't have that dedication," Emily Podd ('18) said.
However, some agree that the holidays are getting overdone. "It doesn't feel festive anymore," Evan Willoughby, junior, said.
People of all ages and religions agree that shopping around the holidays is literally a 'nightmare before Christmas.'
"I will not go to the mall between October and February… there is residual traffic after Christmas, and Christmas starts around September," Margaret Todd, English teacher, said.
Christmas can also put stress on those doing the receiving, as well as awkward family meetings. "People ask me what I want, and I have absolutely no idea what I want. I just change the subject because I have no idea," Podd said.
"You know those aunts who give you really long kisses on the cheek and they squeeze you until you can't breathe, and get lipstick on your cheek. (They say) 'I haven't seen you in so long, you've grown,' I haven't actually grown since I've last seen you," Bella San Lorenzo, junior, said.