Varsity cheer team ends on high note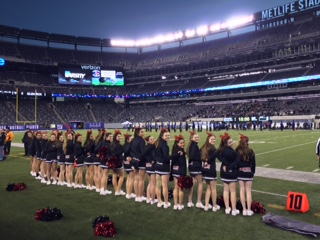 The varsity cheer team competed at Fair Lawn High School's 14th annual Cutter Classic Cheer Competition on Sunday, Dec. 6.  
The team came in second place in the large varsity cheer dance division, which consisted of five teams.
"Your division depends on the size of your team and what type of routine you perform," Juliana Roddy, senior captain, said.  "For example, there is an all music division or a cheer-dance division where you have to do a cheer during the routine at some point and then continue with the music portion."
The girls have been preparing all season to ensure that their routine was ready by the competition.
"Before we can come up with a routine, we have to master all of the skills that are going to go into it and see if every stunt group can do all the skills.  Then we can start to put something together," Ms. Alyssa Perry, head coach and math teacher, said.  "Homecoming is a good halfway mark for us to make sure that we're ready, so we put something together for that.  Then from homecoming up to competition time we try to just make it better every week."
"When you first get there it's crazy; there are cheerleaders running around everywhere in the cafeteria, venders selling apparel, photo companies doing team pictures, and of course the gymnasium where the competition itself is being held," Roddy said.
On Friday, Dec. 4, the girls cheered at MetLife Stadium for the NJSIAA high school football championships. Two days later, they competed in the tournament.  
"It worked out really well that MetLife happened on the same weekend.  A couple of injured people that we had came back that week, so we kind of perfected everything the week leading up to MetLife and then at MetLife we did that particular routine for the first time in front of people with new changes," Perry said.  "It was so cold at MetLife, so I was like if they can do it here then they can definitely do it on Sunday."
"Doing the routine at MetLife on Friday night was a great way to prepare for the competition because it gave us a chance to practice doing it in front of a crowd, as opposed to doing in the cafeteria with just Coach Perry watching," Roddy said.
The football team showed their support by attending the competition on Sunday to cheer the girls on.
"I think we ended on a really good note. We got to go with the boys to MetLife, which was awesome and then we finished it really well on Sunday with the competition," Perry said.  "I think it was a good weekend to show all the hard work we went through during whole season and that it paid off in the end."