Sticking a new product
Heavy Dirty Stickers is an original company created and operated solely by a sophomore, which makes custom and personalized stickers.
Githmie Goonatilleke makes the stickers in her own home, using a color printer, colored ink, sticker paper, and packaging tape. The process used to create the stickers is fairly simple. The sticker paper replaces printer paper in the color printer, then the images are printed from the computer. If the coating was requested, Goonatilleke puts a waterproof finish over the final product.
Stickers run between one and two dollars, depending on whether or not the customer asked for their order to be coated. Friend discounts and negotiations can be offered.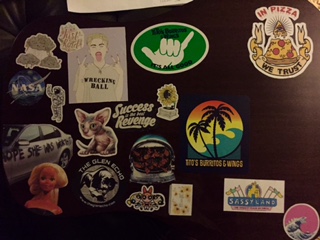 Luke Blomstrom, sophomore, purchased a custom sticker of a minotaur, from Amnesiac by Radiohead. He is satisfied with the turnout, with no complaints, and is considering placing another order in the near future.
Not only is it easy to make the stickers, it is also easy to order them. To place an order, a customer will send Goonatilleke a photo(s), which can be of anything, of what they would like their sticker to be of. Then, a specification of size preference is required. No preference or a range is an option as well.
Julia Rooney, junior, placed an order through text for a 3 inch sticker of her with her friends on the beach. It was then made into a black and white sticker, which Rooney placed on her iPad.She is also happy with the product, and is deciding what she would like to buy next.
"She shouldn't trick people in paying more than they should. People can make this product themselves, but aren't willing to do the actual work. So in a way Githmie has a sticker monopoly, and can and will charge as much as she wants," Emily Chun, sophomore and friend of Goonatilleke, said.
Some students agree that one to two dollars is far too expensive for a single sticker. When compared to popular art and apparel website, Redbubble, the same product is offered, but significantly cheaper.