Palmeri takes talents to Rutgers
It was the final game of the 2014 season and sophomore Jason Palmeri was enjoying a successful mid-season call-up to the Glen Rock High School varsity baseball team.
"I remember it was a brisk day at the end of May, and we'd been eliminated from state playoff contention by Mountain Lakes and this was our last go around with that year's team," Palmeri said. "I wanted to continue to prove myself and prove that I belonged even though it seemed like mop up work because we were trailing by a few a runs in the ballgame."
Palmeri committed to play baseball at Rutgers University-Newark, and he will continue his education at the business school.
"Getting a good education was my priority, and I know that Rutgers' business school has a good reputation, but being able to play college baseball is a privilege," Palmeri said.
Rutgers-Newark competes in the New Jersey Athletic Conference (NJAC), New Jersey's premier NCAA athletic conference and one of the top conferences in the nation.The NJAC almost always qualifies for a bid in the DIII College World Series in Appleton, Wisconsin.
Palmeri hopes that, one day, he'll lead his team to Appleton and help get the Scarlet Raiders to a National Championship.
"When that day comes, I'll be calm and collected, just like I was against Hawthorne," Palmeri said. "Upon entering the game, the team rallied around me and told me that the game was mine to win."
"
I enjoy pitching in front of crowds and I've done it since I was a freshman, but I still keep my competitive edge"
— Jason Palmeri
"I enjoy pitching in front of crowds and I've done it since I was a freshman, but I still keep my competitive edge," Palmeri said.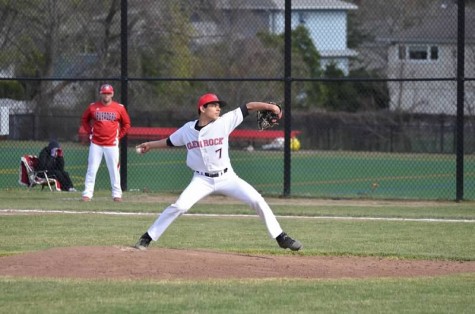 Palmeri played for the Teels Ravens, a club team based out of Wyckoff, NJ, since he was thirteen years old. He said, "I wouldn't be where I am today without Teels because they put me in good situations, going to tournaments in Florida, Maryland, Georgia, and all over the Tri-state area."
At one point, Teels was ranked by Perfect Game as the 108th best team in the country, a tremendous honor for a team from the Northeast.
"I knew pitching was pitching, whether in Florida or in Hawthorne, you have to be at your best," Palmeri said. "I glanced at the scoreboard and we'd scored three runs to tie the game at seven and send the game into extra innings."
"We took the lead in the top half of the eighth and I went back out for the bottom half and closed the door on Hawthorne and capped the season by striking out the last two hitters, proving myself to my teammates and my coaches," Palmeri said.
Last season, Palmeri became a weapon out of the bullpen, throwing 25 innings, striking out 32 batters, and compiling three wins and four saves.
Varsity baseball head coach Mr. William Crispino said that Jason Palmeri was discussed by other coaches at the league meeting.
"He was my go to guy when we were in a tight spot, Crispino said. "They thought he was a senior and never had to face him again, but he's coming back this year and we're going to rely on him."
Just like he learned the ropes in the Glen Rock Baseball program, Palmeri expects the same initiation process at Rutgers-Newark, but he hopes to compile his fair share of innings as a freshman and move up from there.
"Jason emerged as a solid pitcher last season and really pushed me and several other pitchers to work harder because he wants to win," senior pitcher Zach Waller said.
During this winter, Palmeri hopes to add more velocity to his delivery through lifting and the Top Gun Program at Teels and Next Generation Training Center.
"This season, I want to prove to people that I can pitch with the best of them and that we can play with anyone," Palmeri said. "I can't envision my Glen Rock baseball career ending any other way than with a ring. That's what I've dreamed about since freshman year, and this year it's going to become a reality."