The unfortunate reality
December 3, 2015
Yet in Paterson, Jennifer Lindo's story is an anomaly.
"College is not part of their conversation. It's not part of their thinking. It's the opposite almost, it's not cool for you to want to succeed here," Jennifer Brady said. "Going to college is not presented to them."

For many Glen Rock High School students, it is routine for college to be discussed at the dinner table.
"It's normal for the word 'college' to come up at least five times during the day. It is nearly impossible to avoid the topic both in and outside of school," said Emily Rabens, a senior at Glen Rock.  
However, just a town away in Paterson, a discussion of an academic future is incredibly unlikely.
"These kids have the same dreams as the kids in Glen Rock. They want to be doctors and lawyers and engineers and build buildings, but they don't have the opportunity here," Walsh said. "If you went into the Public School system and saw how decrypted and dysfunctional it is… when the kids in Paterson take the SATs, 3% of them are deemed 'college ready'. 3% based on their scores.
And then they have a fear of testing. Big fear… because of failure. You know when you hear 'Oh, you failed the test,' well not really. You took a test and you didn't get enough points. It's a completely different world. The system is working against them. They have to really be self-starters and self-motivated or have Oasis to get out."
According to College Board, approximately 43 percent of students who take the SATs attain the college ready mark. To be deemed "college ready," students must receive a combined score of 1,550 on the test. In 2013, the average score for students in Paterson was 1,120.
The company who administers the test, College Board, states that students who have reached a score of 1,550 and have therefore been deemed "college ready" have a 65-percent chance of getting a B- or higher in their first year of college. The company also says that 54 percent of the students who receive a score higher than 1,550 are likely to get a bachelor's degree within four years of college.
For Brady, she straddles the enormity of two very different worlds.  
"My kids go to Northern Highlands, they have a full engineering program. You could take engineering for four years. That doesn't exist for this population, so they're not getting that. So when they get to the SAT or the ACT and half of it is math, there's no way that they could do it," Brady said. "They're also not being exposed to those career opportunities. If you never experience it, it's not going to happen."
Oasis offers tutoring and educational workshops to compensate for the absence of instruction at school. The faculty of Oasis and IBM are currently working to introduce STEM to the organization, a science, technology, engineering, and math course that would enforce subject areas that Paterson children are experiencing difficulty with. The project, however, will not be launched until the non-profit receives the funding to effectively execute the program.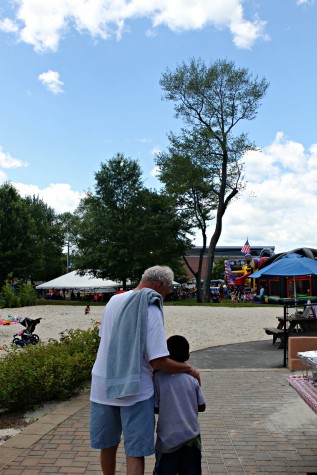 Despite forward-looking programs like STEM, the aspirations of Paterson students are often restricted due to finances.
"Two days ago, I was sitting up here just like this and a little ten year old girl came into my office. Her name is Claudia, and she was just helping me clean up a little bit and I said 'Claudia, what do you want to be when you grow up?' and she said, 'I want to be a doctor, but I don't know if my mom is gonna let me go to college,'" Brady said. "These stories are why we do what we do, but to experience it every day is just amazing."
The lack of opportunity in Paterson encourages the cycle of poverty that the city is struggling with. As a child in Paterson, experiences are restricted to the 8.7 square miles of paucity.
"If you don't experience it, you don't dream it," Walsh explained.