Glen Rock wrestling does not renew contract, splits from Saddle Brook
Glen Rock has not renewed its contract with Saddle Brook to continue the co-op wrestling team this year. This is the first season in 11 years that Glen Rock will compete independently.
"It gives us a chance to build more Glen Rock pride," Jeremy Lipsky, senior wrestler, said. "We lost some relationships that we aren't going to have everyday at practice, but in 3 or 4 years, kids aren't going to know about Saddle Brook. It is what it is."
In 2003, the co-op was created because the two high schools were struggling to complete a wrestling team roster. The goal was to build a stronger program, so both schools could eventually go back to separate teams. The co-op won four district titles and numerous league titles.
"I think it is the right thing to do. Glen Rock won the state sectional in 1999 and 2000, so they have had success in the past and so has Saddle Brook, so it can be achieved," Mr. Corey Fitzpatrick, wrestling head coach, said.
Fitzpatrick has been the Glen Rock head coach for the past three years. During the co-op, there was a head coach for each town, which created an unusual situation for a high school sports team.
The assistant coaches this year will be Jose Vega and Paul Melicharek.
"Even though this is my third year as the head coach, being in a co-op is a different dynamic than being alone," Fitzpatrick explained. "I look at this like the first year of a foundation that we will build on in the future."
The team has about 25 wrestlers that need to fill the 14 specific weight classes. With a wide weight class range from 106 to 285 pounds, it is difficult to spread the wrestlers into the different weight classes.
The team lost about 15 members from Saddle Brook, which creates more opportunity for the Glen Rock students because more weight classes are available.
"I wouldn't prefer it either way," Lipsky said. "Being that the team is split, we have to get a lot of younger guys out on the team and make sure they want to stay in the program to rebuild it."
A few Glen Rock wrestlers also left the program for various reasons.
"I realized that the sport and I weren't compatible," a senior, who is not returning to the wrestling team, said. "I was devastated when Coach told us that we weren't going to be with Saddle Brook anymore, but it wasn't a factor at all."
"That town is special. The bond that we all had with that town was incredibly special. It's like having your brother go to another school but you still got to work, compete, and get better with them," he said.
The team is getting new singlets, warm-up tops and apparel. The Glen Rock Saddle Book wrestling apparel was black and yellow to combine the school colors of both towns.
Glen Rock also purchased a brand new match mat that was expensive, but necessary. The teams' matches are held in the high school gymnasium, but it practices in the fitness center on the side without the equipment. The plan is to have the mats down in the fitness center all year round, but to have a protective cover over the mat when physical education is using the room.
"The administration has done a really good job of making sure things are in place for success," Fitzpatrick said. "If you want to build a program, you have to get the best."
Most of the team has been preparing in the off-season. Ten of the wrestlers attended a four-day team camp at Rutgers University where each wrestler participated in about 25 matches per day. A lot of them are also football players, so they are consistently lifting and conditioning.
This year, the football season is extending into the wrestling practice schedule because the football team keeps advancing in the playoffs. Therefore, the football players continue to attend practice until the season is officially over, then they will transition into wrestling.
"This year is kind of unique because I anticipate them to go all the way to the state championship. I want them to carry over their winning mentality to wrestling as well," Fitzpatrick said.
The two returning senior wrestlers are Lipsky, who wrestles 220, and Ryan Cosgriff, who wrestles in the 126- 132 weight class. Another key returning wrestler is Matt Schlett. Schlett is the quarterback for the varsity football team.
The team also consists of many underclassmen.
"I think because of the amount of kids we have and the lack of experience, I have high expectations that everyone will show up and really bring their hearts and one hundred percent to practice to help break the doubt that people have about this year," Lipsky said.
Fitzpatrick's goal from a team standpoint is to win at least half of the matches. He also expects to have at least five or six wrestlers win regional championships and to have a couple members win district championships.
The first day of the season is Monday, Nov. 23. The three days before Thanksgiving are considered the tryout periods for winter sports teams. Since the wrestling team does not have tryouts, they use the first few days as practices.
Glen Rock does not have a match scheduled against Saddle Brook, but it is possible they will go against each other during the second weekend in January at the Ramsey Dual's tournament.
"We chose not to schedule a match against them this year because it is so close to us splitting up," Fitzpatrick said. "If we do go against them at a tournament, we will try to beat them like we do with everybody else. It is what it is."
About the Writer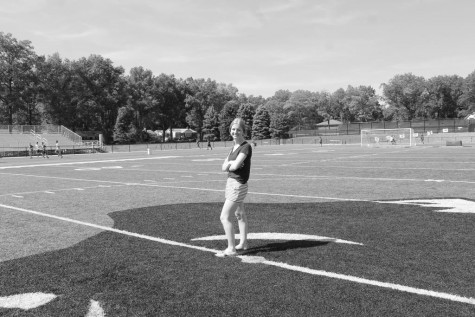 Lilia Wood, Editor-in-Chief
Lilia Wood is the Editor-in-Chief and this is her fourth year working on the newspaper. After she graduates, she plans to study journalism and pursue...