National Farm to School Month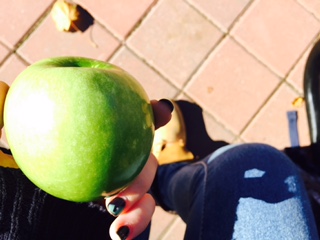 Glen Rock schools are bringing in fresh produce from local farms to promote National Farm to School Month. The goal is to create a healthier environment and lifestyle for the students and staff and to bring in a higher income to local businesses.
The elementary schools are selling fresh fruit and vegetables from the US Food Company in their cafeterias and the high school is promoting its salad bar to support and encourage healthy habits.
"This is handpicked stuff from that day, and within 24 to 48 hours, we're getting it right to the school. It's a pretty quick transfer to keep it fresh," John Lantieri, Food Service Director, said.
One of the down sides of providing fresh and healthy food is the cost.
"They probably don't sell apples and stuff at amusement parks because no one wants to pay that much for an apple. People would rather buy an overpriced piece of pizza than an overpriced apple," Vanessa Hettesheimer ('16) said.
While National Farm to School Month is suppose to be positive in the school setting, some students are not completely satisfied. Many students are not even aware that the school is providing fresh produce in the cafeteria. Therefore, the student body is not buying or looking for any of the products.
If a teenager is given the choice between a banana or a bagel, there is a much higher chance that they will purchase the bagel.
"I think it's a little silly. They offer like cucumbers and stuff, and they're like 'everything is so much healthier,' and the things they offer are cucumbers," Jacob Slump ('18) said. "If that's one of the only things being offered, it's whatever."