Internet safety, it's important
For high school students it is important to be safe online and use the internet cautiously.
In our life style we use the internet everyday. We google information and post photos to social media, but are we really doing everything we can to stay safe? Because technology is a part of our everyday lives, we don't always understand the risks of putting personal information online.
When high school students are asked how they feel about online safety, they don't have much to say. Being safe online is something everyone expects because nothing bad has ever happened to them.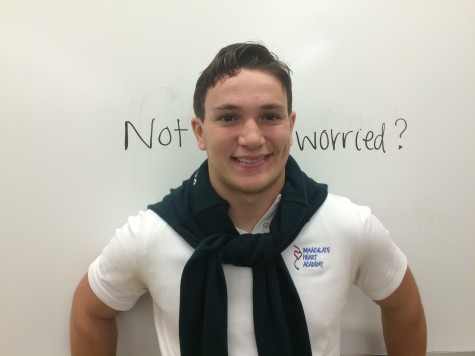 "I don't worry about internet safety," said Vinny Neubert (16′). Most students have not had experiences with identity theft or online scams and frauds.
Identity theft is very common all over the world and is seen in many forms. An act of identity theft could be as simple as having your credit card stolen and used to purchase something expensive or take a large sum of money out of your account.
Another way to get your identity stolen is through your computer. If you have ever gone shopping online you most likely gave your personal information to a website.
It is frightening how much information a person can find out about someone else just by googling them. Online hacking and doxxing can easily provide unwanted guests with personal information about yourself.
Online it is important to be cautious when dealing with sites you don't know. Fraudulent websites can be created and illegally downloaded onto your computer with out your knowledge so that when you do type personal information, someone else can get their hands on it.
In the month of October two cases of identity theft were reported to the Ridgewood police. One of the reports had to do with online computer problems and the victim being told to hand over their credit card information.
In some situations it is difficult to tell if something is fraudulent or not.
For high school students who are using the internet and social media constantly it is important to be aware of things like this so we can safely make use of the internet.
As we were taught long ago, don't give out personal information to people on the internet. That is a simple rule that everyone with common sense can understand.
But sometimes it is more challenging to determine what is safe and unsafe.
Good ways to identify online scams are to look for a valid phone number and company address on the website. Never click on unknown links or websites that promise there customers rewards.
An additional way to stay away from identity theft is to always keep your credit cards and even checks in safe places. Having credit cards and credit card information get stolen is common and can be exasperating.
Especially in high school, students should be aware that they are putting themselves at risk of identity theft when they post pictures of their licenses to social media. Doing this is common but very unsafe. No matter how private you are, it is still possible for unwanted visitors to view your pictures.
Criminals constantly look for new licenses so that they can steal them to make it appear like they have a clean records with no points on their licenses. Photos of licenses online are an easy target.