Glen Rock switches to EpiPen due to Auvi-Q recall
Sanofi conducted a voluntary recall of both 0.15mg and 0.3mg strength Auvi-Q auto-injectors, prompting Glen Rock to pull them from its medical supplies and leaving a dearth of EpiPen injectors.
Sanofi is a global healthcare leader and the maker of Auvi-Q. Auvi-Q is a brand of auto-injectors that delivers a dosage of epinephrine to patients going into anaphylactic shock, a life-threatening allergic reaction.
Auvi-Q is administered when injected into the outer thigh through a syringe-like device. Auvi-Q was distributed to both the United States and Canada through pharmacies, hospitals and wholesalers. As of October 26th, Sanofi had received 26 reports of the devices being unable to deliver accurate doses of epinephrine. Consequences of this minor malfunction could be greatly significant, even fatal.
Cathlyn Hirschfeld ('17) and her family experienced a defective auto-injector first hand.
"My brother was having an allergic reaction, we don't know what it was to, and so he used Auvi-Q and then my mom drove him to the hospital. When he got there his breathing hadn't gotten any better because the Auvi-Q hadn't worked. At the time we were confused as to why… but it makes sense now that Auvi-Q was recalled," Hirschfeld said.
The problem with Auvi-Q is not with the drug but with the injectors themselves, which do not deliver the full dose of the medication. There have been no reported fatalities due to the malfunction. Anyone who has an Auvi-Q injector is being asked to contact their healthcare provider for a new prescription for an EpiPen or Adrenaclick, other auto-injectors available in the United States.
"We're doing this voluntary recall as a precaution, and we have temporarily stopped manufacturing. We take seriously the quality of our products as well as their safe and effective use. For that reason, we're working with FDA to resolve this issue," said Dr. Paul Chew, the Chief Medical officer at Sanofi.
Sanofi is currently arranging the return and reimbursement process. "Sanofi US will provide reimbursement for out of pocket costs incurred for the purchase of new epinephrine auto- injectors with proof of purchase," said the company.
Glen Rock High School has had Auvi-Q in case of emergency since February of 2015, and prior to that the school used EpiPen as their auto-injectors.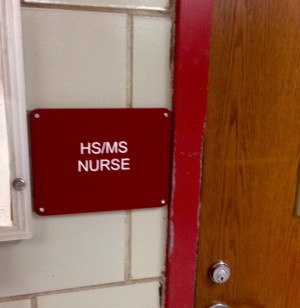 "We have gotten permission to go ahead and order the EpiPens, which are the original auto-injector, and they should be arriving hopefully next week," said Mrs. Susan Becker, the high school nurse.
There has never been an incident where a student went into anaphylactic shock during or at school. However, should a student need an injection before the new EpiPens arrive, the school has enough of the original EpiPens in the event of an emergency. A student does not need a prescription to receive epinephrine, and members of the Glen Rock staff have been trained to administer the drug.
"Sanofi US is committed to patient safety and the quality of Auvi-Q and will continue to work closely with customers and regulatory authorities to resolve this issue in a timely manner," Sanofi reported in its press release.