Football team to face Kittatinny in first round of State tournament
by Colin Morrow, Sports Social Media Editor
November 12, 2015
Ever since falling to Lenape Valley in the first round of states last year, the Glen Rock football team has been looking to regain success in the playoffs. The goal is to return to the state finals for the first time since 2011.
The Panthers have lost their last two first round games, in 2013 and 2014, ending their season and a chance at the title.
On Saturday, Nov. 14, 2015, Glen Rock has a chance to end that streak as they take on Kittatinny at 1 p.m. at Glen Rock High School's Stadium Field.
Glen Rock began their season with a rough loss to Rutherford, falling 26-22. Yet in the next six games following that lost, the Panthers went on a streak, winning all six and taking the league title. Their streak ended this past Saturday when they let a 21-0 halftime lead slip, losing to Garfield 40-21. The game held no playoff implications for Glen Rock.
Glen Rock captured the number one seed for states. Although this could raise the confidence of Glen Rock players and fans, coach William Crispino says that they will not take any team lightly, including eighth-seeded Kittatinny.
"Being the one seed does not make us think we are the clear favorites to win any game in the playoffs," Crispino said. "The other seven teams are all very good, especially Kittatinny, and the team knows they must play well in order to beat them."
Running back Ryan Dooner echoed the sentiment, saying that the playoffs basically means new start to the season.
"I'm not really paying attention to us being the first seed, because playoffs is like a new season. Everyone's record is basically 0-0," he said.
Kittatinny has not had the same successful season that Glen Rock experienced. They finished with a 5-4 record, coming in third in the Northwest Jersey-Independence League. It has been tough to scout this opponent for Glen Rock, considering the two have no common opponents. Despite this barrier, Glen Rock has managed to find out plenty about the team from videos, along with watching some of Kittatinny's games live.
Kittatinny's offense, led by their junior quarterback Nicholas Geimer, has maintained a gameplan that mostly involves running the ball. They have only attempted 62 passes all season, compared to Glen Rock's 143. Instead, Kittatinny prefers to give the ball to either their junior fullback, Josh Klimek, who has run for 755 yards this season, or their junior running back Cody Romano, who has run for 491 yards.
To protect from the run and keep Kittatinny off the board as much as possible, Glen Rock has been practicing their run-defense, trying to prepare for anything that may come their way.
"The defense has focused on stopping the run in practice and the coaching staff has made plans to be in certain formations to help stop the running attack," Crispino said.
Despite the hype for this Saturday's game, Glen Rock coaches have been reminding their players to not get stuck in the moment and to remember what their goal is.
"Do not let the moment become bigger than it needs to be," said Crispino, explaining what he and the coaches have been saying to the players. "If you change too many things around or change your approach to the game, it may backfire and you will regret it.  You want to prepare as best as you can and leave no regrets on the field."
The practices have been more up-tempo as the players prepare for anything that their upcoming opponents will throw their way. With the new field lights, the football team has been able to practice in the evenings.
"The players have been working since last June for the opportunity to make a run in the playoffs and they are certainly excited," Crispino said. "The time, effort and commitment they have made is something not everyone can do.  We are extremely proud of them for the season they have had so far as a coaching staff and look forward to this Saturday!"
About the Writer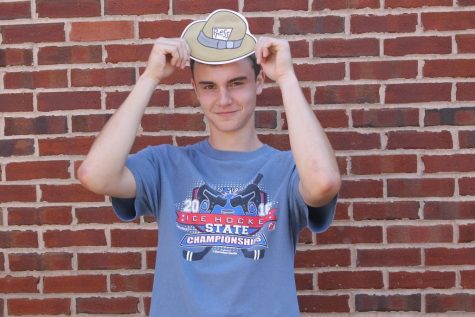 Colin Morrow, Editor-in-Chief
Colin Morrow is a senior at Glen Rock High School. He plays hockey and baseball and enjoys writing about sports. This is his third year of journalism....