Word of the day joins daily announcements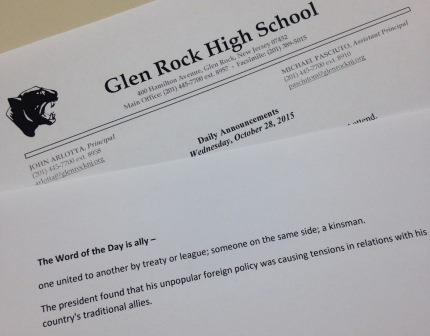 A daily announcement has recently been introduced this school year: the word of the day.
Dr. Paula Valenti, Glen Rock School System's Superintendent, came up with the idea of announcing a new word and definition everyday, in hopes of helping to improve student's standardized test scores.
"We make it part of our announcements," Arlotta said. "We put it on our website."
Each day on the morning announcements, a new word is announced, including its definition and  the word used in a sentence.
"I think the word of the day is a good idea," Alec Hall ('17) said.
The word of the day is now a daily announcement for students to look forward to every morning. Though its purpose is for educating, the sentences are also entertaining.
"They are very educational, helpful and help me expand my vocabulary," Isabel Traphagen ('19) said.
High school specific words are used in hopes of enhancing student's vocabulary and improving their test scores.
"The lives of twenty-first century students are extremely busy; our goal is to simplify and assist the study process in as many ways as possible," Valenti said.