Glen Rock runs for leukemia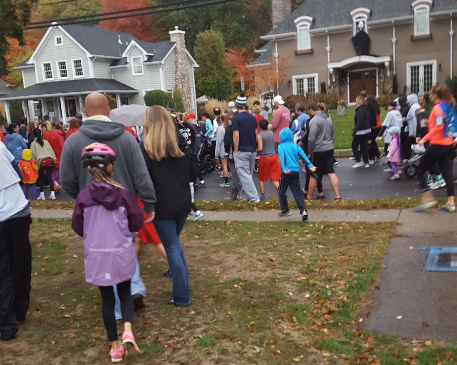 Runners came out to support a boy with leukemia at the Superhero Dylan 5K and a 1-mile kid run on Sunday, Oct. 25.
Dylan Canfield is a six-year-old boy who was diagnosed with leukemia in August.
The run was superhero-themed. Participants came dressed in shirts with superheros on them and some  came in full superhero costumes. Some people ran for the competition and some just came to have fun.
To participate in the 5K, runners paid a $25 entry. The 1-mile kids fun run cost 10$.
Many organizations and local Glen Rock businesses came to help raise funds for Dylan.
One local group, the Glen Rock Junior Football association, was selling baked goods to the runners. The parents and the children in the football league started to prepare for the event three weeks in advance.
An additional fundraiser included a raffle with prizes from such local vendors as the Glen Rock Inn, Mathnasium, Rocca and KidsU.
"I estimate we made about 200 dollars in the raffle," said Kelly Haines, a mother who was working the raffle.
All proceeds went to helping Dylan and his mom Elissa. 298 runners were registered to participate on the race's website. 
The Canfield family lost Bill Canfield, Dylan's father, to cancer when Dylan was very young.