Dressing up for a cause
To get in the spirit of Halloween, teachers and staff dressed up in military themed apparel on Friday, Oct. 30.
"We wanted to do something different, something we have never done before," Mrs. Janice Crowley, attendance office secretary, said.
Crowley coordinated the Halloween theme along with Mrs. Marisa Davitt, the administrative assistant of the principal's office.
This is a tradition for Glen Rock teachers and staff.  Previous themes include a hospital theme, a farming theme, and a Hawaii theme. 
This year's theme was primarily chosen to support the armed forces. The staff wanted to recognize the sacrifices that the soldiers make and all they do for the United States.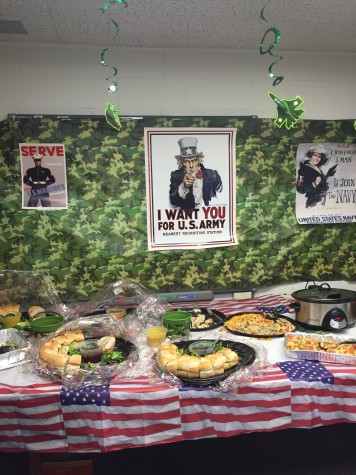 For the teacher luncheon, the conference room in the attendance office was decorated with camouflage, the American flag and various posters. Teachers, who wanted to participate, paid for their own lunch and ate together.
"This shows that we are united," Dr. Katherine Galvagni, French and Theory of Knowledge teacher, said.  
Each year, a portion of the money made by the luncheon goes to a specific charity that correlates to the theme. This year, the money was donated to the Wounded Warrior Project, which is a charity that raises awareness for wounded veterans, helps pay for their injuries and supports the families of veterans. 
Dressing up for Halloween helps the staff come together under one common interest and shows their school spirit.
"It is really for staff morale," Crowley said.
Each year, the theme is inclusive, so all teachers and staff have the opportunity to participate. They also try to make the costume easy to put together. 
Not everyone had camouflage in their closet. Luckily,  Ms. Bonnie Zimmermann, along with the athletic department, sold pink camouflage t-shirts to raise awareness for breast cancer in October. Most teachers bought these shirts and were able to wear them last Friday. 
"A few students said they liked my costume. I took the military theme and made it the French foreign legion and was able to share French culture with my students," Galvagni said.