Lange joins teammate, takes talents to Drew
Senior Matthew Lange recently committed to play baseball at Drew University, a division three school, in Madison, NJ.
"Drew is very unique; it's a liberal arts school. I'm undecided going in, and it's a great school to help you choose which program you want to go into," Lange said.
Lange began playing baseball in third grade, and the sport came naturally to him.
He has played first baseman on several teams including the Glen Rock high school baseball team and the club team, Wladyka. Although baseball is Lange's favorite sport, he is also a captain on the high school football team.
As Lange's recruitment began, he had a few other colleges that were interested, including Widener University and Moravian College. While all of these schools have several qualities that Lange had interest in, Drew provided almost all of the things he was looking for.
"Location was important. I wanted to go to a school that fit me well. I wanted to go to a small school, right around two thousand students, and a place I would have a chance to play my freshman year," Lange said.
Drew University is about 40 minutes from Glen Rock and consists of about 2,113 students.
"My first contact was through email. I emailed Coach Hirschberg saying I was going to visit as a group tour and he emailed me back saying if I wanted a private tour, he'd be more than happy to give me one," Lange said.
Lange was one of Drew's top recruits due to his hitting prowess and base-running smarts.
For football head coach Mr. Jim Kurz, Lange exemplifies a hard-working athlete.
"I spoke to Coach Hirschberg and he loved his work ethic, his leadership and love for competition. He just loves to compete and I think when it comes to recruiting an athlete, you want someone who is a winner and Matt Lange is a winner," Kurz said.
The thoughts were echoed by Mr. William Crisipino, head baseball coach and assistant football coach.
"His toughness and knowledge of baseball.  It is easy to look at his batting statistics and see why Drew likes him so much.  But what the Drew head coach loves about Matt is his attitude and his ability to make things happen.  Matt really does live and breathe baseball, and it was easy for Drew to see that," Crispino said.
Fellow varsity baseball player, Max Felsenstein, has been playing with Lange since third grade.
"Matt's a hard worker, he's always been a hard worker ever since he was nine years old, he's been playing the game right, he plays with a passion, he hustles on and off the field, he does everything right," Felsenstein explained.
Felsenstein also committed to play baseball at Drew University next year.
"I couldn't be happier to be spending the next four years with such a good kid. He's the most deserving kid, I don't think there's a more humble player out there," Felsenstein said. "He's modest about what he does. He doesn't like talking about himself, but he's just a great player and great friend."
Many of Lange's teammates, coaches and peers immediately take note of his work ethic as a player, along with his upbeat attitude. Lange is often described as a happy go-lucky kid, who is always ready to work and put forth the effort needed during a game or practice.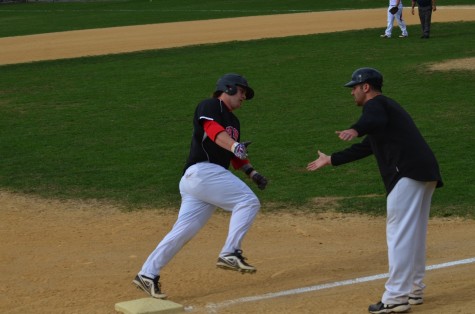 "Matt has always been a consistent and reliable player as he never misses a practice and does all of the extra things to get better.  His dedication to the weight room and practice has illustrated how hard work can pay off," Crispino said.
Lange commits a significant amount of his time to practicing and working on becoming a better player.
During the fall, he dedicates his time to football. Throughout football season, Lange works on strength training by lifting. This not only made him stronger for football, but it also put more pop in his bat for baseball.
He spends his summers working out for football while also playing for his club team, Wladyka. Lange's dedication to both baseball and football has molded him into a good leader. As captain of the football team, it is clear that Lange has many qualities of a leader and they often show on the field.
While to some it may seem like Lange is strictly business, that could not be further from the truth. Lange is described as having "a fun personality." Coach Crispino noted Lange's gift for coming up with great one liners as well as mentioning how he always remains positive.
"Whether he is calling a coach 'boss' or calling himself a 'bowling ball who can run really fast and not be able to stop on kick off,' he can make light of many situations," Crispino said.
Lange is not only a tireless work horse, but he also has quite the personality.  It comes as no surprise that his personality doesn't change whether it is "the bottom of the 7th and 2 outs" or "in the middle of a light practice," according to Crispino.
Lange describes his proudest baseball moment as his first homerun in high school.
"It was just a big milestone for me; it was just something I dreamed of doing since I was a little kid. It was even bigger because we were up by 1 in a close game and I hit a three run homerun."