Students build Engineering Club for school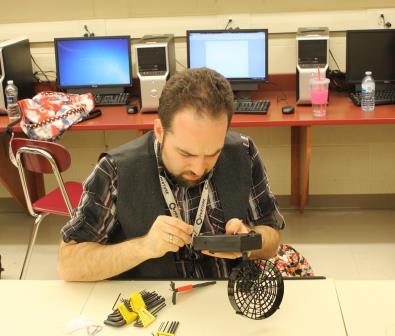 by Colin Morrow, Social Media Sports Manager
October 28, 2015
Since entering high school, Lee Hasselmann, a junior, wanted to put his knowledge of engineering to good use. He had heard of such clubs as the Robotics Club, but he didn't want to restrict himself to only one category. As his search for the perfect club for engineers continued, he began to realize that it may not be possible without his own actions.
"I liked the idea of robotics, but I wanted to expand upon building robots and doing interesting projects as well," Hasselmann said.
Over the summer, he decided to create the Engineering Club, a club that would expand on the field of engineering in our school to allow members to gain a more diverse knowledge, instead of focusing on one specific section.
However, before the club could be created, Hasselmann, along with Kevin Sheahen, needed to find an adviser. They asked Mr. Oren Levi, who has been a physics teacher in school for four years. He not only had experience as a club adviser, but as an Engineer as well. Levi attended the Engineering Academy at Bergen County Academies, as well as a class in Incorporated Engineering while in Graduate school. Currently, he is teaching CAD in addition to Physics, which is involved in engineering. After being asked to advise, it did not take Levi long to accept the invitation.
"[Lee] approached me about leading it," Levi said. "After researching it a bit I thought it was a really cool idea and decided to give it a go."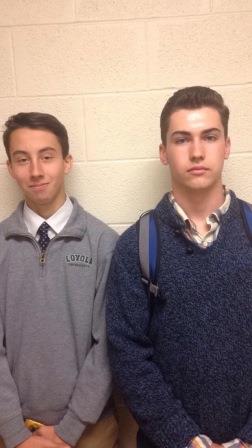 Unfortunately, both Hasselmann and Sheahen ran into an extra obstacle that neither had expected. Since the Robotics Club has been a popular and successful school club for quite some time, the two juniors had to prove to Robotics Club members, as well as Principal Mr. John Arlotta, that this club would be original and would not take away from the existing club.
"The club itself will be different in the sense that we don't have to zero in on a specific form of engineering," Hasselmann said.
Eventually, Hasselmann and Sheahen were able to convince Arlotta into allowing the club to form. During the Club Walkaround event the two juniors were able to expose their plans for the year in hopes to gain interest. Students from all four grades showed interest, and by the end of the day, forty different names had been signed on the signup sheet: all students interested in joining.
"It was definitely a bit more than I had figured," said Hasselmann, "but I knew that there would be a strong interest."
Eventually, the two founders, along with their adviser, hope to compete in New Jersey's STEM league, in which schools from across the state compete in Science, Technology, Engineering, and Math competitions. Although they will not be able to compete this year, they hope students will remain interested enough, so the competition can be added into their budget, therefore allowing the club to compete.
Much like any club founded here in school, those who run the Engineering Club have the goal to improve the skills of their members. Hasselman believes that this club can offer an opportunity to those interested in engineering that may not have been available.
"It can offer a unique, fun, and competitive environment for anyone interested in engineering or STEM."
Levi believes that the Engineering Club is about more than just competing. He hopes that this will put an end to the inability of people to find solutions that is often seen today.
"I'm hoping students will get real life problem solving skills and experience building with their hands. I feel like students these days feel like they never need to problem solve or do anything themselves; that there is someone out there they can pay to do everything for them. Learning how to solve a real problem and build or create a solution yourself is valuable and will help students their whole lives, not just to win competitions."
Whatever the reason, the Engineering Club looks to have the potential to be great. With its broad topic, there is almost no limit as to what can be accomplished in their meetings throughout the school year.
"There's so many different kinds of engineering," said Hasselmann. "Maybe we build a catapult at one meeting and at the next we have a guest speaker discussing ocean engineering.