Student releases compilation album for cancer treatment
A senior student has released a compilation album comprised of many New Jersey and other out of state bands for the Best Answer For Cancer Foundation on Oct 12.
The compilation is called Best Answer For Cancer Compilation and was released under Justin McCollum's own independent record label Amber Lamp Records.
Featuring 40 songs by 40 different bands, the compilation brings together an array of rock and other popular music styles. It features a number of New Jersey bands including Bergen County bands Puddle Splasher and Glen Rock's very own Devon Goods and Deaf Rhino, as well as out of state bands like Emo Side Project.
McCollum not only called on all these bands to provide songs for the release of this compilation, but he also plays in Devon Goods. He selected all of the bands by picking friends and bands that Devon Goods has played with in their time as a band.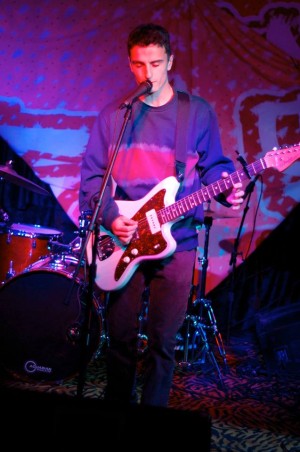 "I chose all of the bands that we played with like The Planet You, Noot, Cheem, Jean Pool, Puddle Splasher because I knew that they would be the first people to respond," McCollum said "and then I contacted some bigger bands, not too big but bigger with a bit of a natural presence, like Forever Losing Sleep and Emo Side Project who were happy to help out."
Every band was contacted through the social media hub Facebook. Although not every band that McCollum contacted was able to release music for the compilation, the bands who did make it onto the compilation were ecstatic to help a cause by doing what they love: playing music.
"My original inspiration for releasing the Best Answer For Cancer Comp was Craig Lindholm, who operated what was just a music group on Facebook and turned into a record label, and released comps for the charity RAINN, which is a charity against sexual abuse for women," McCollum said. "He released, I think, seven compilations with 70 bands. They were incredibly successful. He's a really inspirational guy."
Craig Lindholm also features on the compilation. Lindholm used his original music under the moniker Mad Wizards of Mars.
A couple of the songs featured on the compilation are tracks that the bands are released for the first time such as "Select, Up, B" by Devon Goods and "Waltz" by Hold On, Caulfield.
The Best Answer For Cancer Compilation can be found at http://amberlamprecs.bandcamp.com/album/best-answer-for-cancer-compilation for $2, but any amount of money is acceptable as it is for charity.
"So far we've made around $62 for the charity," McCollum said "All the money goes directly to the charity–I don't touch it at all."