Sharing of the Arts program returns with ogres, kindness
The Sharing of the Arts program will be working with students beginning in January to put together and perform Shrek: The Musical.
Over a period of 12 weeks, once a week, student-mentors will work with younger children to put together the  production, which will be performed sometime in April. The mentors help the children practice script lines, learn choreography, and sing and rehearse songs.
The program is a non-profit performing arts organization for children ages 6-20 who have mild to severe communication disabilities, physical disabilities, or emotional instability. Although the program was founded 10 years ago by a Karen Sheehey, it has only been an interactive club at Glen Rock for the last 6 years.
The program was first introduced by Danielle Basirico, a former Glen Rock student, who participated in the program to earn her Golden Award for Girl Scouts. But, with the help of  teacher Joanne Brown, what started as a simple project blossomed into a official club that many students enjoy participating in.
Brown, the middle school dance teacher, has been the adviser of the club from the very beginning. She views the program as an opportunity for teenagers as well as for the children.
"For the teenagers, it's a chance to give back as a mentor to children who are awesome but cannot perform in a typical show, who love to perform but do not get that opportunity because of their disability," Brown said.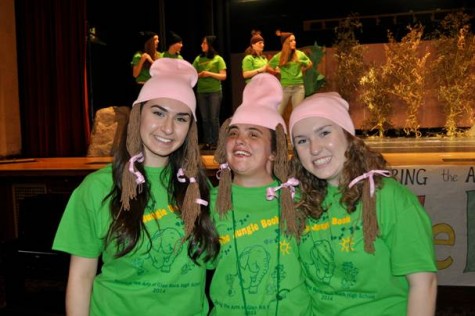 For Brown, much of what can be done depends on the number of student volunteers who step forward to help.
"It's a little hard to tell how many volunteers we will have since won't be starting until January, but so far there are 20-30 volunteers," Brown said.
In the past, the program had six to 14 performers and "about the same number of volunteers," according to Brown.
The choreographers and vocal coaches will be chosen during the first meeting in January.
Skylar Burke, a sophomore, loves doing the program and encourages other people to come and help.
"It's actually really fun and I love helping the kids," Burke said.
Michelle Hirs, another sophomore, also participated in the program last year.
"I like interacting with the children and spending time with them, it's the career path I would like to take, and it's just a fun experience," Hirs said.
Brown is confident that there are enough volunteers to put on a successful production in 2016.
"It would be great if we could have a bigger audience this year," Brown said.