Rock Road welcomes luck of the Irish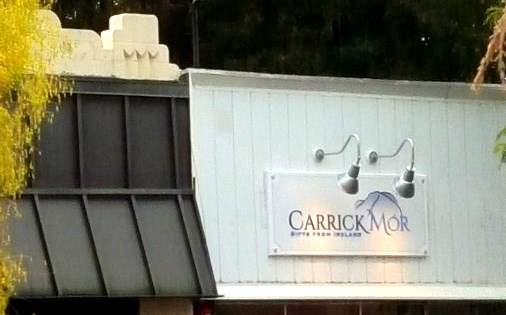 Original: that is the best term to describe Carrick Mor, the new Irish-themed store located at 212 Rock Road.
The store is owned and operated by Kristin and Michael McGrowan, Irish residents who have lived in Glen Rock for seven years.
Carrick Mor means "big rock" in Gaelic, the Irish language. It has been open since Sept. 8.
The idea of opening an Irish store came from two other Irish stores in Ridgewood and Wyckoff that had been closed down.
Kristin said that it was her husband's idea to open the store in the first place.
"My husband, he did not like all the empty store fronts, so he thought, 'What could I do? What type of store would I like to go into?'" she said. "That's how we came up with opening an Irish store:"
Carrick Mor is the only Irish store in Bergen county and carries products such as the Donegal Pen, a homemade pen created by two Irish brothers, Ronan and Conor McGarvey, that cannot be found anywhere else in the United States. 
Although much of the merchandise might not be appealing to people who don't have an Irish heritage, the store is still welcoming to those who are looking for gifts, St. Patrick's Day items, and those looking to experience imports from overseas.  
Many of the items for sale, however, avoided the stereotypical shamrocks and bright green dye and were instead imports of Irish goods.  On the shelves were crosses, clothing, and posters of the Irish landscape.
Along with the merchandise Carrick Mor is now selling traditional Irish food such as traditionally cured black bacon and black (blood) and white puddings.
Jarod Forer, a sophomore, wasn't yet familiar with the store.
"I really don't have any connection to Ireland or anything at all," he said. "I wouldn't see any benefit for me. But for people who do have roots on the island, it would be very plausible."
The Carrick Mor is open Monday to Saturday from 10am to 6pm, except on Wednesday when they are open from 11am until 8pm.