Student body reacts to the chairs in the school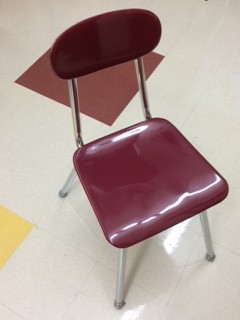 There are many different types of chairs in the school. From the wood chairs that do not pair with any of the desks in the school to the hard, plastic, beige desk chairs to the turquoise and black plastic chairs which pair with the plastic black desks.
The most common chairs are the hard, red or yellow plastic chairs. These chairs are not popular among the student body and could really use some improvement.
"The chairs are cold, hard and uncomfortable," said John Scialdone ('16). "I switch the chairs after people leave class for the bathroom."
"The chairs are disgusting," said Ryan Stolz ('16). "They are always rocky and wobbly."
The chairs do not only present appearance problems and discomfort, but they also cause medical problems.
"The chairs in the school give me back problems and I hate them," Anna Barton ('16) said.
Even though the majority of students dislike the chairs in the school, some actually enjoy the comfort of the chairs.
"I actually quite like the chairs," said Julia Rooney ('17).
"I think they're comfortable, but if they had more back support they would be great," said Lauren Hanfield ('16).
It seems the overall consensus about the chairs in the school is that they are uncomfortable, old, hard, and cold. There are no future plans to change the chairs, so the students who do not enjoy them have to deal with it for the entirety of their high school careers.
The chairs in the school will just simply have to remain hard and cold. This school is not like an airplane; students cannot simply upgrade to first class.