Math teacher solves single equation
The second the last school bell rang on Friday, Sept. 25, the math department ran out the door to St. Therese's Chapel in Cresskill to hear the wedding bells at math teacher, Mr. Michael Corby's, marriage ceremony.
Photo Credit: JCWood Photography
Corby's favorite moment of his wedding was when he saw his wife walk down the aisle.
The math teachers arrived at the church seconds before the bride began to walk down the aisle for the 3:30 p.m. ceremony.
"Her dress was beautiful," Corby said. "The first time I saw it was when she was walking down the aisle."
The reception followed the ceremony at the Valley Regency in Clifton with about 175 guests.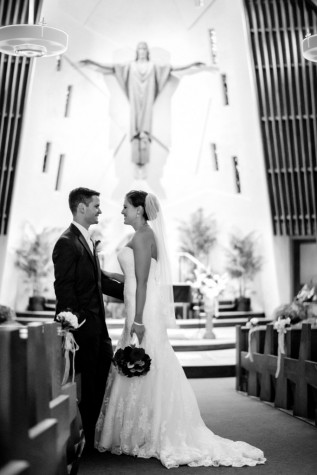 "It was a fall theme and we went with fall colors," Corby explained. "The bridesmaids' dresses were navy and all of the flowers were red and orange."
The venue had a garden area in the back where the pictures were taken, and food was served constantly throughout the entire evening.
"My favorite part was when my wife and I escaped the reception for about 10 minutes to take some evening pictures in the gardens," he said.
They both worked together to plan the wedding. The more stressful part of planning the wedding was the last two weeks when they had to make all the final preparations with the vendors.
"They all wanted to meet up at the same time and in different locations, so we had to drive from one to another, which made our schedule challenging," Corby explained.
Although the wedding was in Sept., the school calendar did not affect the date they couple chose for their wedding.
Corby and his wife met during their college years at The College of New Jersey.
He proposed to her on May 3rd in Long Beach Island while they were walking on the beach.
The couple plans to go on a honeymoon, but the location is to be determined.
"I would say my favorite part of the wedding was when she walked down the aisle," Corby said. "I know it is cliché, but it is true."