New laptop docking system
A new computer system has swept Glen Rock High Schools' classrooms by storm.
After every middle school and high school teacher received a new "EliteBook 820 G2," "the docking stations just made sense," said Rich Santos, the head of the Tech department at Glen Rock High School.
All of the teachers had their own laptops in addition to the desktops, according to Santos, but there weren't any particular issues with the old desktops. They got the job done, although a bit outdated. But it was a collaborative decision between the high school and middle school teachers to remove the old desktops and  have the Glen Rock Technology Department install the new docking system. "With the new deployment of the new laptops, it was decided that the docking station setup better met the needs of the teacher," said Santos.
With this new system installed, many improvement came along with it.
"…we chose to use docking stations instead of desktops to provide the teachers with an easier transition when moving from class to class," Said Santos.
Surely enough, this reasoning was justified.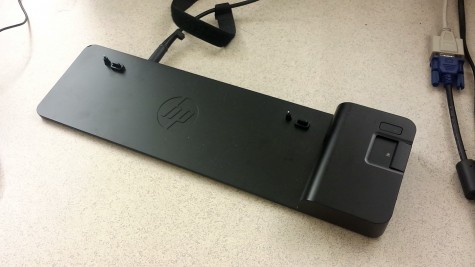 "Instead of having a teacher sign off [the desktop] and you have to log onto attendance… open up your files, you could walk in and dock your computer that is already set up for the class," said Kathleen Walter, social studies teacher of 8 years in Glen Rock High School.
But like most other things, there came issues along with all the improvements.  "No new installation is without issue, but that said, we have been able to work through them to this point," commented Santos.
Dr Katherine Galvagni, French and Theory of knowledge teacher at Glen Rock High School, is one of the teachers that has had difficulties with the new system. In her class there have been instances where audio would not play through the laptops and it would. But like santos said, no new installation is without issue. But besides these small issues, Dr. Galvagni comments, "it's great [the laptops and the new system], we're really implementing technology into the classrooms."
Galvagni also adds that the new laptops and the system really encourages her to use an online classroom such as edmodo.com. This particular use should really start showing up with the upcoming possibility of 1 on 1 laptops with the students.