"The Triplets from Bermuda"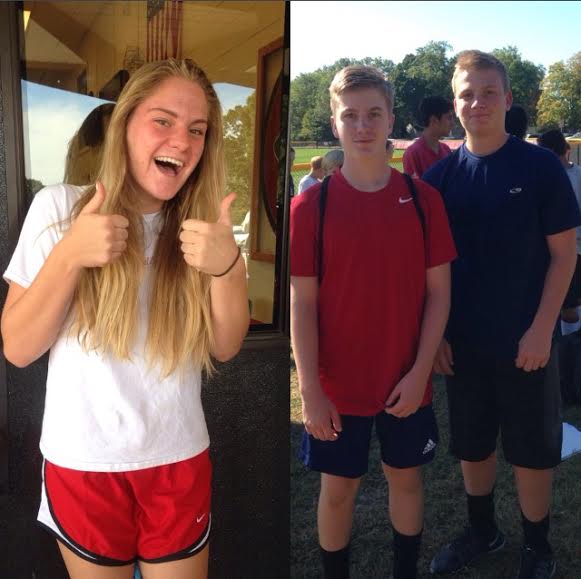 What could be more different between the continental climate of New Jersey and the sub-tropical weather of Bermuda? Jack, Nick, and Haleigh Martin ('19) moved hundreds of miles to Glen Rock from Hamilton Parish, Bermuda. It was one of the hardest changes they've ever had to make.
Born in Ridgewood, the Martins moved to Bermuda when they were 4 months old. Their father lived in Bermuda his whole life and didn't want to give up his job or leave home. They lived there until August of this summer, when they moved back to Glen Rock because their mother wanted to be closer to her friends and family.
Walking into the halls of a school six times the size of the one they previously went to is not easy to acclimate to, yet this was not the only change the triplets had to adjust to.
Ever since they were 4 months old, Jack, Nick and Haleigh were used to a stable temperature of about 75 degrees almost everyday, all year round. The four defined seasons of New Jersey will be something they have to look forward to.
"I like the winter," Jack Martin said. However, Haleigh feels quite the opposite. She misses the warm weather and scenery of her home town, but the one thing she does look forward to is the colorful leaves that will come this fall.
Another one of these differences was shopping. "You don't really go to Bermuda to shop," Haleigh said. There was one main clothing store the triplets liked to go to, so they mostly bought clothes when they were off the island. Haleigh likes similar clothing stores to girls here at Glen Rock High School. Some of these stores include Forever 21, H&M, and Aeropostale.
Although Bermuda and Glen Rock are very different, they have their similarities. The triplets play soccer, just like they did back home. They also listen to similar music. Haleigh enjoys One Direction and other pop artists.
Although Glen Rock seems to be treating the Martins well, all three triplets agree that the move would have been much more difficult if they didn't have one another. Walking into a school with some 800 people would have been much more scary if they were doing it by themselves.
"I wouldn't have done it alone," Haleigh said.