The Front Bottoms – Back On Top Review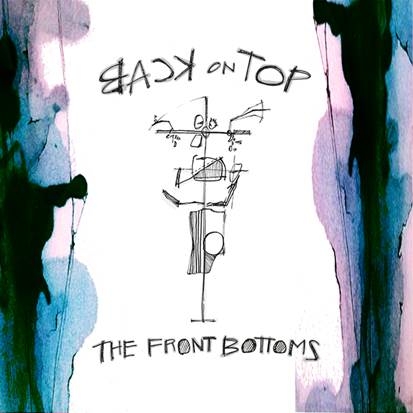 The Front Bottoms dropped their fifth full-length LP Back On Top on Fueled by Ramen Records on Friday, April 20.
The Front Bottoms are a New Jersey rock duo who have been making catchy albums rooted in modern indie rock, folk punk, and emo.
The band's first two LPs I Hate My Friends and My Grandma vs Pneumonia were self-released and not very well known by the general public.  The songs are very immature compared to the rest of the The Front Bottoms' discography.
The Front Bottoms signed to Bar/None Records in 2011, and subsequently released their third and fourth full-length LPs, The Front Bottoms and Talon of the Hawk. The former was released in 2011 and the latter in 2013.
Both records showed immense improvement in The Front Bottoms' quality in overall sound and performance. Each album contains incredibly catchy, folky, indie rock tracks that defines the band's sound, displaying influences from indie veterans such as Archers of Loaf, Nada Surf, and Weezer as well as 90s emo mainstays such as The Promise Ring, The Get Up Kids, and Saves the Day.
On Back On Top, The Front Bottoms have extended their accessibility with even more of a pop sensibility. Signing to a major label, it's very likely that the band changed their sound to fit the label's emo/indie pop format.
The record starts off with the catchy opener "Motorcycle," which has an incredibly sticky hook and main riff, but a vast majority of the first half of the record fails to live up to the likes of past two records.
Unlike past releases, Back On Top features an abundance of extra instrumentation and more electric guitar. Prior to Back On Top, The Front Bottoms would usually only include a trumpet, a single electric guitar, a single acoustic guitar, drums, and maybe some extra percussion here and there.  This release, however, features synths, keys, and other instruments that do not really meld well with the standard Front Bottoms sound.
Although the first half of the album falters, the second half achieves the same feeling that those classic records do. The catchy tracks can be blasted in any basement or garage. Though the second half achieves the classic Front Bottoms aesthetic, the sixth track "Historic Cemetery" is completely out of place on Back On Top because it features rapper GDP whom The Front Bottoms released a split EP with back in 2014. Hip hop is not a genre that works well with folky indie punk styles, and leaves a huge hole in the track listing.
Overall, The Front Bottoms deliver a lackluster group of tracks, which in no way can really be called an album. The band should have just released the second half of Back On Top as an EP because this half achieves the same level of performance as prior Front Bottoms releases.
Overall Rating: 6