Student assistance counselor joins staff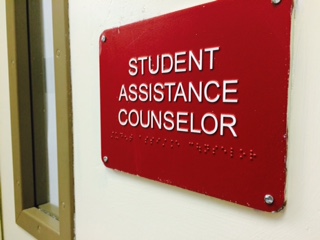 A new Student Assistance Counselor has been hired following the departure of former SAC Ms. Heather Nover.
Danielle Helder, who enters her first year counseling at Glen Rock, had previously worked as a school psychologist for seven years, working in both private and public schools.
Helder went back to school and got her counseling degree. She then worked at an agency for chemical dependency in short-term residential.
The Student Assistance Counselor, or SAC, performs individual counseling, group counseling, and programming.  She is also a resource to parents and staff, and she helps students connect with outside resources.
The SAC counselor can work with "everything from substance abuse to mental health to a breakup," according to Helder.
Helder chose to switch to being a counselor at Glen Rock because it "wasn't the typical Sac position." Rather, it involved more counseling and clinical experience, as well as working with a wide variety of students.
According to Helder, she likes what she is doing here and plans on staying.
"It has been a very positive experience so far," she said.
"
You can save somebody."
— Danielle Helder
Helder is trying to prevent negative escalation, a term she uses to describe an issue getting worse than it already is.
"I saw the adults when I was working in short-term residential and, trying to intervene at an earlier age, so they don't have to end up that way. Because a lot of what I saw was just so much pain, and where they're at their worst. They don't have to go through that…. there's a lot of students who are going through a lot of things and no one knows," she said.
"If you're able to connect and kind of have a safe place for someone to go to, you can save somebody," Helder said.
The student assistance counselors maintain confidentiality, according to Helder. "Everything that is said stays here," she said, noting a few exceptions, such as if someone is threatening to hurt themselves, someone else, or is being abused.
If a students is using a substance, though, it does stay within that confidentiality agreement, unless it puts that person in physical danger or they come into school under the influence.
"If they are under the influence but a student comes to me and says, 'I'm not sure if I have an issue with substances,' we can work on that confidentially," Helder said.