Softball girls take on a new journey
The Glen Rock High School Softball team spent the last few weeks of March preparing for their spring season. With the coaching staff taking charge, they were able to make the few weeks very eventful.

Myrtle Beach

Coach Kelly Dowell, who also coaches JV Tennis and Middle School girls basketball, is in her 11th year coaching softball for Glen Rock. Coach Dowell and Asst. Coach Erickson were able to schedule a spring training trip for the softball players. They decided to take their players down to Myrtle Beach, South Carolina.

"

"

Myrtle Beach is a new trip this year and I feel it's a good spark to the program."

— Dowell

" Dowell said.

"We'll have more playing time. Thursday night will be fun, then our schedule is three games on Friday and three games on Saturday,"

"I'm so excited! Are you kidding? With this past winter, I'm excited to get someplace relatively warm," Erickson said. With the previous winters the northern hemisphere has seen, Coach Dowell and Coach Erickson have decided that traveling with the team will make up for time lost due to the weather conditions.

"I am so excited to go to Myrtle Beach with the team!" Sarah Perry said, a junior on Varsity who plays the catcher position, and recently inquired the outfield. Perry has been playing softball since she was 4 and also plays travel softball in the summer and fall. "I'm looking forward to hanging out with my teammates and getting to play the game."

On Thursday, March 19th, the softball team traveled to Myrtle Beach for a tournament at The Ripken Experience. The Ripken Experience was founded by Cal and Bill Ripken, and it's a facility designed for both softball and baseball players to play against teams around the country. The establishment is full of positive vibes and always reassures players to never give up with wise words like passion, integrity, perseverance and family.

"This is something that I have been thinking about for years," Dowell said, "I've got a lot of information from other coaches and schools that have been doing this for years and I feel like this was the right time, especially after the couple of winters that we've had, not being able to get on our field." Dowell had mentioned that the initial goal for the trip was to get as much playing time as possible because the past few winters have been challenging for playing games. Mainly, the whole focus of the spring training trip was to get real scrimmage like games in and playing time and along with live pitching.

"Felt this was a good opportunity for us," Dowell said, "Something that other teams are doing, that gives them that more competitive edge."

"We were very lucky enough to play other teams that we usually don't face in New Jersey, from Pennsylvania, so that was interesting and different." Dowell said. The teams we had played against were from the Pittsburgh area in Pennsylvania.

"We had scrimmages scheduled prior but unfortunately we were never able to play them, and this was our first time on the field, so I think in the future what I'll do is schedule two games a day – doubleheaders and if it's possible, add more games when we get down there." Dowell Said.

The softball team played five games while in Myrtle Beach, three on Friday, March 20th and two on Saturday, March 21st.

"They had all the fields enclosed and beautiful with fencing and turf and bullpens and nice dugouts and they had training facilities, so you had batting cages all throughout the park, you had mini turf fields that could be used for practicing and warming up. Several baseball fields designed after some old baseball parks which was cool to see, it's a beautiful complex." Dowell said, as she had described what the complex was like.

"It was awesome. The place that we went was very accommodating to our needs. I liked the Ripken Experience and how well run it was, and I liked how there was all turf fields so that we had the opportunity to play whether there was a weather concern, they do the best they can to accommodate you if you'd want to add or drop games while you were there." Dowell said.

The overall cost for the trip to Myrtle Beach ranged in-between $8,000 to $10,000 which had cost each player around $550 to $560 each. Even though the bus ride was long and tiring, with the company of the beloved nurse, Steve, the Bus Driver, the coaches and the players, it definitely paid off.

"I would very much so like to incorporate this trip in the future." Dowell said.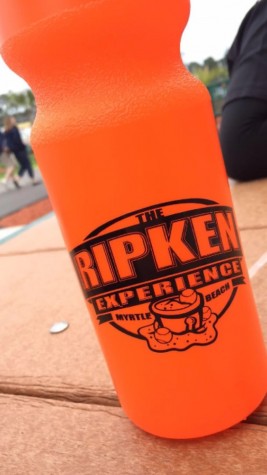 Dowell had said that she wouldn't want to travel by plane as of right now since the players and the program itself are fairly new to traveling with the school and the expenses for traveling by bus are much more affordable than by plane, also the fact that if the team would have traveled by plane, there wouldn't have been much they could have brought with them, things that wouldn't be regulation by the aircraft carrier company and if so, they'd have to be put in baggage check which would have caused the price to rise. Furthermore considering once we have gotten to our destination, transportation would have been an issue as well. It would have made expenses rise and more challenging to coordinate.
Because team bonding on the field is just as important as team bonding off the field, Friday night, the team had dinner at The Hard Rock Café in Myrtle Beach with the accompany of the coaches, the nurse and the bus driver. Saturday night, we had traveled down to the shops in downtown Myrtle Beach for dinner, a quick walk on the beach, and of course, sightseeing! Unfortunately, Saturday night was our last, so we had to make the best of it!
"I loved it! I can't wait to go again next year. But for now, my goal is to win as many games as we can!" Perry said.
Beginning of the Season
Every season brings new opportunities to the table along with the talents of each individual. To test the limits and become one strong team together.
"I'm looking for us to put in every ounce of effort that we can, every pitch, every inning, every game, all in. I'm wanting us to go and be the best that we can possibly be this season." Erickson said. "I'm looking forward to the season, I'm looking forward to working with the girls, it's always fun, it's always exciting, it's always a challenge, and its great working with Dowell too."
Coach Erickson's expectations for this upcoming season have always been in the back of the mind of the players.
"Make counties, make states and then you can see where you go when that time comes." Erickson said. Something like counties and states, the girls' are always looking forward to it, despite the ups and downs of the season, anything's possible.
Carly Benjamin, a senior, who's captain (beside Kate Kelly, senior) and who also plays catcher, is already reminiscing on the past 3 and a half years of her varsity softball career. Carly is more than ecstatic for her last season in Glen Rock, hoping to achieve great things internally as well as leaving a great name for the team.
"I have really high expectations for this season and my goal is to win leagues," Benjamin said.
Carly is a 4 year high school varsity softball player who played t-ball when she was young and started her softball career in 3rd grade. She will be continuing to play in college when she graduates and will be playing softball for DeSales University in Pennsylvania.
The New Home Field
In the upcoming summer of 2015 into early fall, Glen Rock will have officially begun the process of redoing Coleman School's softball field. The process will start in June and is predicted to be done by September.
"As of right now, everything for the new field is in place," Dowell said.
"
As of right now, everything for the new field is in place"
— Dowell
The layout of the field is remaining the same, as the field will be as any other softball field. There will be new sod, as well as new fencing, bullpen, dugouts, walkways, and scoreboard. No turf will be permitted on the new field as of this moment because it is too expensive to be put in, and it was something that wasn't doable at this time.
In the past, different sports have been able to practice on Coleman. Since the lights have been passed, they are able to put a permanent fence in the outfield and by the company that is redoing the field does so, no other sport besides softball and baseball will be able to use it.
"It'll be a high school softball, rec, middle school, complex, travel and sometimes I believe little league baseball." Dowell said. These are the teams and clubs that will be able to use the new field.
"This is super, I'm very excited for the new field." Erickson said. "Really can't wait to see it because for so long the girls have always been number two in terms of getting things so it's really, really nice to see that this is finally happening."
JV softball Coach Kristen Danubio also has an opinion about the new field. "I'm extremely excited about the new field." Danubio said. "After playing on it when I went to glen rock, I'm excited to see that the program has progressed a lot and is working its way to become competitive through its field."
Zoe Bender, a junior on varsity who plays center field is thrilled about the project.
"I'm definitely excited for the new field!" Bender said. She has been playing softball for her entire life and she plans to play at the college level and hopefully afterwards, coaching college softball. She has been on varsity since her freshman year in high school.
"I'm looking forward to a level outfield with sod or good grass without bumpy patches we currently have, dugouts, a permanent fence and a scoreboard. I can't wait to have a nice, new, home field that we are proud of!" Bender said.
It's about time that the home softball field was caught up to date with the new and improved baseball, football and lower field, another addition to the sports family.
The New Uniforms
The varsity softball girls received new uniforms for the 2015 season and the next upcoming seasons. The uniform jerseys are black with red stitch lettering with a white outline. The pants are plain black along with black softball socks, and of course a touch of color with the brand new red belts.
"The uniforms are really nice!" Ashley Miceli said, a sophomore on varsity. Ashley has been playing softball since kindergarten and has come so far to be a sophomore on varsity.
"It was really different to do black on black instead of red on black but I think it sends a message to the other teams that we are tougher than ever." Miceli said.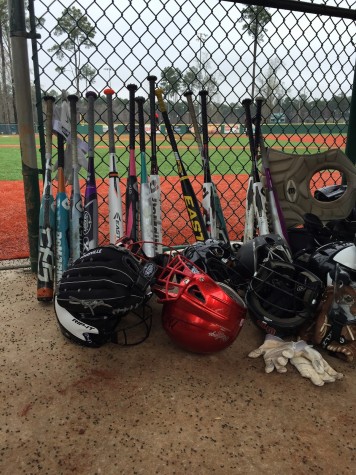 After having the same uniforms for such a long time, which before these, were red button down jerseys, with a lighter material, Coach Dowell figured that it would be an appropriate time for the girls' to acquire new uniforms. The middle school girls' softball team now has the old Varsity uniforms.
"I like them a lot, they're very intimidating. It's a comfortable fit too." Carly Benjamin said.
JV Softball
The JV softball team is also looking forward to the season with most of the new girls on the team being freshman, approaching a higher level team has been a new opportunity for the girls to show other teams what they're made of. Coach Kristen Danubio, alumni for Glen Rock, and who has been coaching Glen Rock JV softball for 3 years is always looking forward to a new season.
"I'm looking forward to meeting new players and seeing new talent, progressing on new talent." Danubio said. "I expect us to compete in every game, and to work hard and to get better and progress throughout the year and I expect my girls to make it up to varsity by the end of the year." Danubio's words of "being competitive" has been embedded into the minds of her players and to know that they will give their all along with the commitment to the team, is the entirety needed for Coach Danubio.
Captain Nicole Vasoll, a junior, is certainly  ecstatic for this season.
"I'm really excited for the season!" Vasoll said. Nicole has been playing for the Glen Rock softball team her entire high school career and will continue to play until she has graduated high school.
"I'm expecting great things from the team, even though we are a bit shaky with all the injuries, I'm sure we will come around." Vasoll said.
Kaylie Ernst and Maddie Lyon, both freshman on JV are also enlightened with the idea of playing High School softball.
"I'm super excited for the season, it's my first year playing on the high school team and I've been playing softball since I was 5." Ernst said. Kaylie has also stated that she cannot wait for their first win!
Maddie has been playing softball since her 3rd grade year and likewise has said that she cannot wait to win games and spend time with the team.
"I'm really excited for the season and I hope that it's a fun season and that we play really well." Lyon said.
With the season starting off with a bang, both Varsity and JV teams are once again ready to attack the season with, "conviction," according to Coach Dowell. There's more in store for this season and a lot more to look forward too, for the girls, the coaches and of course the fans. As for the new field, the new uniforms and the spring training trip, it's great to see how far the softball program has advanced.