Gym closed for the spring
The once open gym doors that invited students in for physical education class and lunch are now closed- guarded by windows covered with paper. A sign reads "No students allowed in gym", ensuring the Grad Ball theme remains a secret while raising students' curiosity.
Besides the questioning of unique creation is being constructed in the gym for this year's senior class, another frequently asked question is "where are all of the students who eat lunch in the gym now going to sit?".
"With most students eating in the cafeteria and some others in either the courtyard, Media Center or High school gym, we have more than ample space," said Principal John Arlotta.
Students that once sat in the gym now must find a new seating arrangement.
"Once the gym is no longer an option to sit in for lunch I plan on sitting in the courtyard," says Greta Kovacs, junior.
With the overflow from the gym, seating in the courtyard has become limited. "I have realized that there are more and more people sitting outside the courtyard which makes it increasingly difficult to quickly find a table," says Kovacs.
Although the ideal table may seem harder to come by, the seating availability has yet to be unaccommodating. As for the possibility of inclement weather, alternate lunch space has been provided.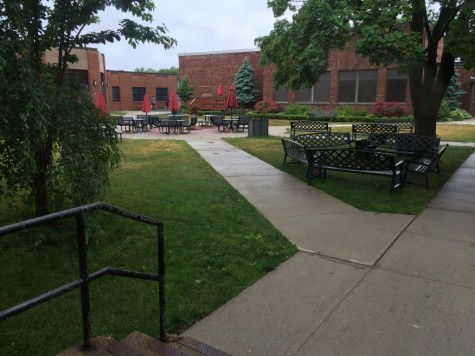 "We already had tables set up in the APR for testing so we decided to leave them set up for lunch as well," said Arlotta.
With the seating situation under control, Arlotta says "the feedback regarding the new schedule and unit lunch has been very positive."