Girls' lacrosse proves its success
The ninth annual Glen Rock Lacrosse Day took place on Saturday April 25th.The Glen Rock High School girl's lacrosse team won their league game against Bergen Tech.
"
This was the first time we played on lax day since 2010, so we were so excited to be back! Lax Day is a celebration for the lacrosse community in town."
— Taryn Tabano
"This was the first time we played on lax day since 2010, so we were so excited to be back! Lax Day is a celebration for the lacrosse community in town," said head coach, Taryn Tabano.
"We're arguably the youngest/newest sport in Glen Rock, this being the 9th annual celebration, it was awesome to see how big the sport has become and how much the event itself has grown," added Tabano.
The final score was nineteen to seven. Glen Rock kept the lead from throughout the game, ending the first half winning thirteen to two.
"We were happy to have controlled the tempo of the game in the first half and throughout. Lacrosse is a game of momentum and even through substitutions, we controlled our possessions and played well on both ends of the field," said Tabano.
Senior captain, McGara DeWan scored a total of eight goals with three assists. DeWan has over two hundred career points.
"During the game I knew we were playing well. Everyone was giving full effort and we got results. We played with intensity and never let down," said DeWan.
Sophomore, Alyssa Lorenz and junior, Killeen McDonald both contributed with two goals each.
Sophomores, Mary-Kate Horton and Emily Schaefer have been playing on varsity since freshmen year and each scored a goal.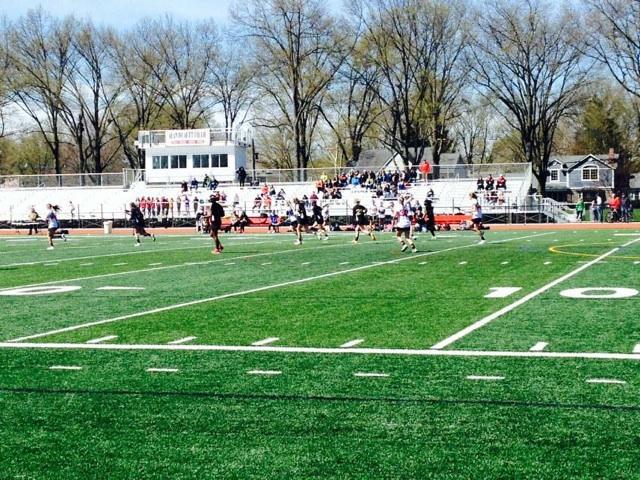 Juniors, McKensie Dill, Madeline Doubet, and Julia Gaffey scored one goal each.
"During the game we were all really pumped up and our positive attitudes helped us play very well," said Gaffey.
The team is mostly made up of underclassmen, giving a lot of freshmen time on varsity.
Freshmen, Jordan Russo, and Kaitlyn Arcede each scored a goal, proving that they are up for the challenge.
Monday, April 27th Glen Rock played Northern Highlands but unfortunately they lost, fourteen to two.
Now the team's record is ten to two, after a victory over Waldwick on Wednesday April 28th. It was a very intense game, with the teams taking turns leading the score board.
McGara DeWan scored four goals in the first half along with her teammates, Lorenz, McDonald and Gaffey adding points.
"Our team is great at passing. We are never selfish and always hit the open player," DeWan said.
McKensie Dill caused six defensive turnovers helping to hold Waldwick to just five goals. At halftime, Glen Rock was winning seven to five.
The second half was a tighter game but Glen Rock continued to score goals; four more for DeWAn, another for Gaffey, and Schaefer contributed with an eight meter shot.
Goalies Michelle Hillock (Sophomore) and Elizabeth Burgoyne (Freshman) collectively saved seven shots which added to the win.
The final score was 13 to 12, making the team confident and mentally-prepared for their next oppenent.
"As a team goal, I think we all want to go far in counties and win our first league title," said Gaffey.
"The rest of the season is promising for us. We should make it far in the counties and states. We are looking to be league champs and we are almost there. So far we are undefeated in the league and plan to stay that way," added DeWan
Earlier in the season, Glen Rock beat Riverdell in overtime so they are excited that they will be playing them again on Friday May 2nd for their first county game.