Violinist takes center stage
Perhaps you remember seeing the violinist on the stage during the Winter Slideshow performance, surprising the crowd with her skill and taking over the spotlight.
Ever since age three, music has been a very important part of senior Agatha Blevin's life. She plays multiple instruments and continuously portrays her musical talent through various performances. Throughout these experiences, Blevin has discovered her ongoing passion for music.
"I've been playing since I was about three years old, and I stuck with it. And love it," Blevin says about her favorite instrument, the violin. "It's my main instrument and what I'm getting my major in."
Performing within a chamber group, Blevin ('15) competed at the Manhattan School of Music (MSM) this past Saturday, Jan. 24, 2015. They played Dvorak F-Minor Trio for piano, violin, and cello.
Before this performance on Jan. 24, 2015, she had just visited Indiana University for a couple of days. In Indiana, she did an intensive study with music performance professor Grigory Kalinovsky. The trip had been more of a study than a performance opportunity for her.
"I studied as if I was one of his students," she says.
Yet despite playing on big stages in the Northeast now, her journey had humble beginnings deep in the heart of Texas.
As soon as she picked up the violin, Blevin immediately began to take lessons with a teacher in Houston, TX., her home at the time. As she got older, Blevin, whose mother is Peruvian, started to take lessons in Dallas, TX.
Blevin had performed a couple of times in Texas, but she had also gotten the chance to perform in Italy. She thoroughly enjoyed this performance, especially just for the fact that she got to travel to Italy. These different performances led her to an opportunity to audition for a teacher at a music school in New York.
When she received news about the audition, she moved to New Jersey seven years ago, to live in a closer proximity to the school.
She says that one of her most memorable performances that she's had was at the Aspen Music Festival. She ended up playing a violin that was about two sizes too big. "The performance was fantastic because I got to play on a gorgeous instrument, but also one of the most chaotic," Blevin says.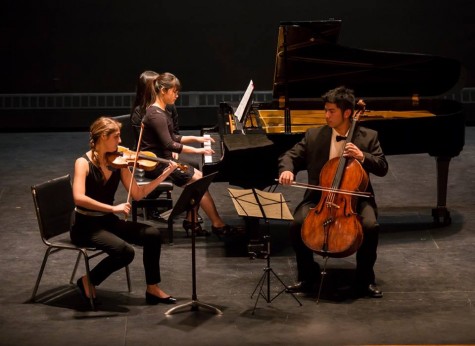 Some of her favorite performances are when she works with her chamber group. She says they're "just because it's fun to collaborate with other talented musicians as well. The pianist in my chamber group is one of the most talented pianists I've ever worked with, so playing with him and the cellist is fantastic."
Not only does she practice violin for three to four hours everyday, but Blevin also has to go to pre-college every weekend for eight and a half hours. Along with these commitments, she also takes lessons in New York City two times per week. Blevin is busy with chamber rehearsals during the week, too.
Between the ages of eight and nine, Blevin started learning the viola. "I learned to play the viola to do a couple performances in an orchestra," she says. "I only pick it up when it's asked of me, which it hasn't been, recently. It's not my main instrument."
Then, when she was between 13 and 14 years old, she learned how to play the piano, "because all musicians have to take piano skills in college."
Blevin has performed innumerable times, since she has been getting on stage ever since the age of four.
"I'm at Manhattan School of Music now. I started there my freshmen year," she says, as she finishes her senior year.
At MSM, she studies music theory, along with ear training. Blevin performs in several groups— her chamber group, and is also in the Philharmonic Orchestra, a large ensemble.
Even today, though, before getting on stage, Blevin feels nervous. "I go somewhere I can be alone, and breathe six seconds in and six seconds out for a couple of minutes. It's forcibly slowing my heart rate so that I can trick myself into not feeling that nervousness. Then I take a piece of dark chocolate for a little energy and then I go on stage," she explains.
"
When I perform, every little move that I make has to be calculated. So by the time I start really playing, I have so much to think about that I don't have time to be nervous anymore!"
— Agatha Blevin, senior
Her nerves have not stopped her from rocking the house, though.
With her chamber group at MSM, Blevin won first place.
"It went very well," she says, "but there are always improvements that can be made before the big performance in two weeks."
The competition's winners performance is on Feb. 7, which Blevin is preparing for now.
When Blevin visited Indiana previous to this recent performance, she had an amazing time studying at the university. This trip had been more of a study opportunity than a performance opportunity for her.
Blevin comments, "When I perform, every little move that I make has to be calculated. So by the time I start really playing, I have so much to think about that I don't have time to be nervous anymore!"
On Dec. 23, 2015, Blevin performed twice during the annual holiday slideshow. Her first performance was with Jack Whyte and Lee Maitner, singing a song by John Lennon. The second performance that she did was with Max Alba (guitar), Ryan Byrne (drums), and Jack Whyte (bass and vocals), singing Mansard Roof by Vampire Weekend. They also performed Reptillia by The Strokes, and their own original version of Carol of the Bells.
Although, Blevin says, "The slideshow is something I'd never actually done before. It was cool music to play, but the farthest thing from what I do."
Since Blevin started at such a young age, she says, "I can't honestly say that I remember every aspect of my musical beginnings. What I can say, is that I don't ever remember there being a time where music wasn't a big part of my life. It was always something I did, and really enjoyed."
"Music is everything to me. It's really the only thing that I've done my entire life— I don't remember any time when I never played the violin. Plus, a lot of sacrifices and decisions revolve around my musical career; it comes first in my life."