Out w/ the old in w/ the code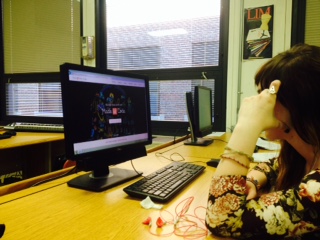 The Christmas tree in the living room is no longer just made of pine leaves and a rustic smell — instead, it's made with code.
Traditionally, Christmas trees are garnished with ornaments, garland, lights and a shining star on top. Yet this year, Google's new project, Made W/ Code, has lit-up Christmas trees with designs that were made with simplified block-style CSS, one of the many languages that programmers use.
Made W/ Code users can create designs using code by choosing different colored lights and selecting how quickly the lights will flash. After designing their own coded Christmas trees, users will be able to see them light up, showcased at the capital and in their preferred state.
But Made W/ Code has different projects, too. These include creating drum beats, snowflakes, avatars and gifs — all using code.
Some students have heard of Made W/ Code because it was advertised on Google, a popular search engine.
"That sounds like an interesting project that they've developed," said Constandinos Andreou, a freshman, who liked the idea of Made W/ Code.
Constandinos Andreou, better known as Dinos, describes himself as "funny, smart, interesting and curious." Andreou is one student who has had past experiences with coding.
"I got into it not too long ago," the fourteen-year old said. "I coded websites before with my friend and we set  it up. We just set up a search engine of some sort."
Unfortunately Andreou's search engine was not as successful as he had hoped it to be. Andreou and his friend had "input the wrong numbers for it."
Nevertheless, this first experience with coding did not disabuse him of its potential.
"It was fun. I'd do it again, although it takes a lot of time," Andreou said. "Overall it was a good learning experience."
Other freshmen students did not have as much experience in coding as Andreou, and the results were mixed.
Sam Cioppio, a freshman,  had heard of Made W/ Code. "You just code Christmas trees," she said of the program.
Michelle Hirs, a freshman,has little interest in coding. "I haven't [heard of it]," she said. "I have never tried it, and I am probably not going to start soon."
Although coding is much harder than Made W/ Code portrays with its simple interface, Google is determined to let people explore computer science as Made W/ Code shows what a career in web developing, web designing, and overall coding could be like.
"I think coding is a very technical process. I've done a little before and it takes time, it's not an easy thing and it's really just a lot of numbers," Andreou said. "It helps you improve in the field of computers because now you understand how you can program different databases. I would definitely go into computer science because it's very interesting. Coding in general is a interesting subject."
Yet others do not view coding as the fascinating subject Google has built it up to be.
"It's not that interesting," Cioppio said. "Coding is really boring and I could never do that."
Coding, however, is the framework for many of the popular websites people visit on a daily basis.
Coding classes are currently not available at Glen Rock High School, but some students, like Andreou, believe it would be a great addition to the curriculum.
Dr. Kathleen Regan, Glen Rock's Director of Curriculum and Instruction, has embraced the idea of coding in the classroom.  She believes that Science, Technology, Engineering, and Math (frequently abbreviated as STEM) are important parts of the Glen Rock curriculum.
"I think it's important for all students to have exposure to coding to understand what it's about," Regan said. "We initiated that about five years ago, and we have engineering — we introduced it in kindergarten and offer it right up to high school."
Fortunately for students who enjoy coding, Glen Rock has "built it right into the regular curriculum," according to Regan.
"We have two specialized teachers, Mrs. Voit and Mrs. Morrow, that go in and co-teach with the teachers. They do STEM," Regan said.
Regan told The Glen Echo that Glen Rock was one of the first school districts in New Jersey to implement STEM-based classes.
The district does not intend to rest on its laurels, however.
"This year we're spending on research and coming up with some recommendations," she said. "Mr. Blatt in the middle school is very much researching coding, as is Mrs. Morrow and Mrs. Voit."
The teachers attended a workshop of Dec. 6 at the Microsoft building in New York City that pertained to coding.
With all of the preliminary research nearing completion, Regan said, coding classes should start rolling out next year.
"What I'd like to do is grow it for students that have a real passion for it," Regan said. "We can offer computer science programs again."
For a freshman student like Andreou, these changes can't happen soon enough.
"Coding classes would be pretty beneficial," Andreou said. "Especially for those who are going into the field of technology and computer science."