Freshmen class finds a new way to fundraise
The class of 2018 organized a week-long candy gram fundraiser to raise money for their class funds during the holiday season. Beginning Dec. 10 and ending on Dec. 18, candy grams were sold during lunch at a table set up in the lobby. Inspired by the movie "Mean Girls," the name of the fundraiser "Go Glen Coco" caught the attention of many students and teachers.
"We decided that it would be really nice thing if we could have students write messages to their friends and they would have a choice of a big candy cane or a small candy cane. They would write the note themselves and put it together like a DIY candy gram, so we weren't the ones writing the messages and it would be more personal," said Jacqueline Stoller, class adviser and Special Education teacher.
Smaller candy canes were sold for 50 cents, medium candy canes for $1 and large candy canes for $7. For the note, students and teachers could choose from a variety of colors and shapes, such as Christmas trees, and decorate their messages with markers and ribbons. The candy grams were delivered by the class officers on Dec. 19 during first period.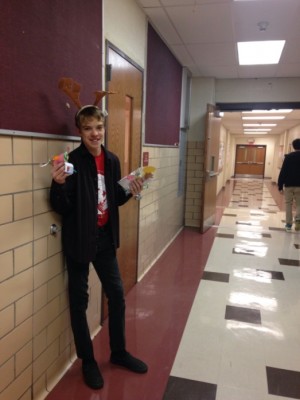 Aside from small forms of fundraising such as selling t-shirts and organizing bake sales, this was the first time that the freshmen class officers planned an entire fundraiser. Previously, the Spanish club has organized a similar fundraiser in which they sold roses for Valentine's Day. This year, the idea for the candy gram fundraiser was suggested by a class officer during a meeting.
"We wanted to do something for the holiday season, and we wanted different ideas other than the usual bake sales. We wanted to look for other ways to make money and that's how we came up with this idea," Stoller said.
The freshmen class officers met regularly to plan for the fundraiser and make sure that it was progressing smoothly. With many aspects of the fundraiser to schedule and plan for, the officers communicated through a group e-mail and scheduled meetings accordingly.  The class received support from not only the high school teachers and students, but also from middle school students who bought candy on their way to lunch.
"The fundraiser took a while to plan because we had to figure out what we were selling and how much we were going to sell it for. We had some debates over how much we were going to sell for," said Jean Walter, freshman recording secretary.
Many students enjoyed participating in the fundraiser and found the new idea refreshing.
"
We scheduled selling candy around when people had lab and when they didn't. If someone couldn't make it, someone else was always there to step in."
— Jean Walter, freshman
"It's a nice way to show that you're happy that this specific person exists. But primarily it effectively raises money for our class. Some of my friends sent candy grams to their teachers," freshman Nicole Rothstein said.
Even though this was their first fundraiser, with guidance from their class advisers Stoller and Mario Porciello, science teacher, the officers worked well together and did a great job making the entire event come together.
"We scheduled selling candy around when people had lab and when they didn't. If someone couldn't make it, someone else was always there to step in. Also we had help from many other non-class officers," Walter said.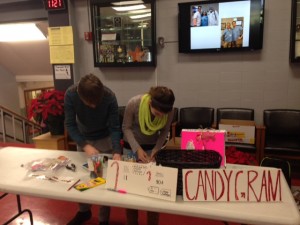 The candy gram sale ended on Dec.18 and the class officers delivered the candy canes the following day during first period. Organizing the delivery was one of the most challenging parts of the fundraiser, as well as planning around each of the officer's schedules.
"Everyone that's involved in Class Council is a pretty hardworking student. They care about their grades and they want to do well in school. A lot of them are involved with other activities so it's always hard to make sure that everyone can come," Stoller said.
As a result of its success and interest from participating students, this new fundraiser holds the potential to become a future tradition.
"We are happy with where this is going and we are still planning on doing it next year," Stoller said. "We already have more ideas on how to be organized so now we are looking towards the next fundraiser."
On the other hand, besides raising money these kinds of fundraisers have many benefits not only to the organizers, but also to the participants. School wide fundraisers offer the opportunity to meet new people and get to know others better.
"These kinds of fundraisers are fun to do and they are fun to set up. They are fun for us and school spirit and morale goes up," Walter said.