Glen Rock gives through Glen Rock Gives
Santa's elves won't be the only ones lending a helping hand this holiday season. Members of Glen Rock Gives, a new outreach club offered at Glen Rock High School, plan to volunteer their time to help local residents alleviate their pre-holiday stresses.
This new club, entering its second year, is offering gift wrapping to Glen Rock citizens who don't have time to wrap gifts for their family and friends this upcoming holiday season.
The first official event of Glen Rock Gives will be held on December 16 from 3:30 to 5:00 in the Hamilton Lobby. At this meeting, members will wrap the gifts of Glen Rock Residents.
Residents are advised to bring their gifts to the Hamilton Lobby in a bag with their last name written on it, and the volunteers will wrap the gifts in accordance to the last name.  Residents may drop their labeled, unwrapped gifts off at Glen Rock High School and later pick them up at 5:00.
The motives behind Glen Rock Gives are especially relevant during the holiday season.
"What inspired us to have this club created was the fact that most teens don't volunteer enough and it is really important to lend a hand to our community because we are all very fortunate," said Victoria Messikian, Co-Leader of Glen Rock Gives.
In order to initiate Glen Rock Gives, senior, Tori Rusko, and junior, Victoria Messikian had to go through a lengthy yet worthwhile process. Before Glen Rock Gives became an official club, Rusko and Messikian met with Principal John Arlotta to finalize the idea. They also asked their former Journalism teacher and current advisor of The Glen Echo, Jason Toncic, to be the Glen Rock Gives adviser.
"Glen Rock Gives is still a budding program, so I'm looking forward to seeing what type of work that they do and how it will connect to The Glen Echo," Toncic said.
Although the club is still expanding, Rusko and Messikian plan to further develop Glen Rock Gives.
"It's still in its very early stages. My goal is to do a few more events before I graduate in June," Rusko said.
The student leaders of Glen Rock Gives asked Toncic to be their adviser because the idea stemmed from their former journalism class.
"The idea of this came from Tori and I brainstorming in our journalism class last year about ways we can help out our community," Messikian explained.
"Glen Rock Gives is an organization that was set up by Victoria Messikian and Tori Rusko last year, and it was a committee outreach program," Toncic said.
Both Rusko and Messikian are proud hopeful and optimistic to see what the club has in store.
"I feel very proud that it is an actual club because we followed through with something we wanted to do, and hopefully it will have a positive impact on our community," Messikian said.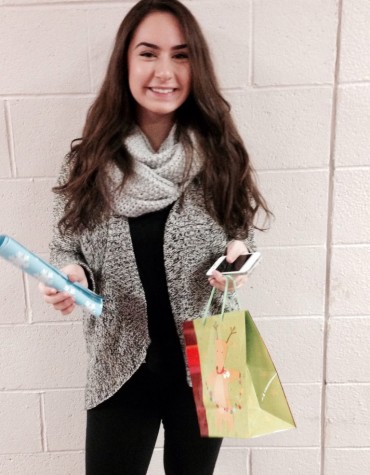 The very first club  event will be open to new and existing Glen Rock High School members. Rusko and Messikian hope to have a successful turn out in the number of volunteers. To become a member, one should contact either Rusko or Messikian. All events hosted by Glen Rock Gives are considered volunteer events. Students may volunteer with Glen Rock Gives whenever they wish, and the time spent at Glen Rock Gives events counts as community service hours.
Both Rusko and Messikian look forward to making a difference in their community and are hopeful that, through Glen Rock Gives, children will want to give back to their communities.
"It's an organization where we try to teach younger kids the importance of community service and teach them how to be a good citizen," said Rusko.
Glen Rock Gives has previously collected funds from a bake sale that was held last year. The club collected money that will be used to purchase supplies for the upcoming gift wrapping. Members are encouraged to bring scissors, tape and/or wrapping paper.
This event is one of the many events Glen Rock Gives leaders plan on having. Glen Rock Gives plans on having at least one meeting a month. Although this particular event is focused on the upcoming holidays, members can come up with different volunteer ideas and look at charities they are interested in assisting.  The primary goal of the club is to help with the community, so Glen Rock Gives plans to help out with various events and activities in the future.
"We definitely plan to expand the duration of the club. We are planning to help out at a local nursing home as well as doing activities with elementary school students," Messikian said.